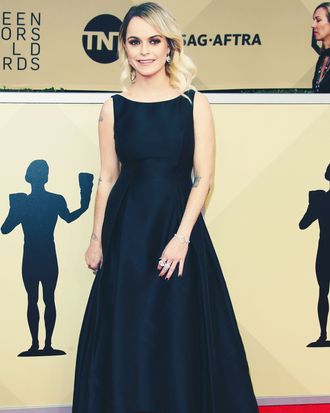 Taryn Manning.
Photo: Dan MacMedan/Getty Images
Orange Is the New Black's Taryn Manning walked the SAG Awards red carpet in a $200 Adrianna Papell dress, though apparently she wasn't aware of the price at the time.
On Wednesday, TMZ asked the 39-year-old actress about her affordable dress. She responded that she wished she had known about the circumstances.
"It's wack that my stylist didn't tell me that," Manning told TMZ. While she appreciated the attainability of the look, she said she felt she deserved more: "It still sucks for me. I want to be in like a superstar gown." Manning also expressed frustration that she'd unwittingly given the designer "a lot of press," adding, "She should pay me a lot of money."
After her statements drew significant backlash, Manning took to Instagram on Thursday to apologize and explain her comments. She wrote, "I was completely caught off guard when all of the press about my dress was about the cost, which I knew nothing about, and I felt used for someone else's gain."
She ended the apology by emphasizing that she is happy to wear affordable fashion to help prove "that there is more to feeling confident, beautiful, and happy on the inside than just a price tag."