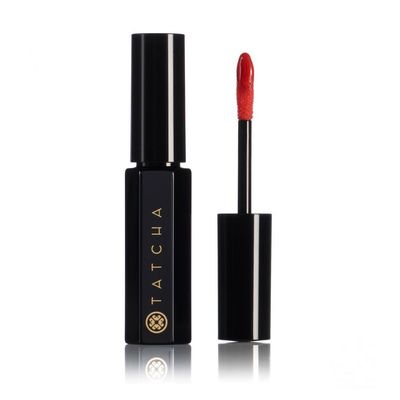 I have an aversion to bright lip colors, mostly because they pop so startlingly against my pale-as-paper skin. So when I got a tube of Tatcha's lip oil as a holiday gift, I was skeptical. It was a very glossy, bright pink-red: a color I never thought I would wear.
I brought it home that night hoping my mother or 15-year-old sister would like it. First, my sister put it on. When she came out of her room to show me, her lips looked pink and moist — almost like she had just eaten a watermelon. It didn't look nearly as bright on her as it did in the tube and it complemented her pale skin too. My mother loved it so much on my sister that she used it for a wedding she had to attend the next day. While she's not nearly as pale as me or my sister, the color brightened up her complexion and contrasted beautifully against her navy blue dress. I finally decided to try it because my mother and sister couldn't stop raving about its rich pigment and smooth texture.
Now, I'm hooked. It glides on so effortlessly, it feels like I'm putting a velvety, rich oil on my lips. Because my skin is so sensitive and the most complex formula I usually put on my lips is Vaseline, I was a little nervous to learn I was smearing plant-based oils all over my lips. It turns out, though, that lip oil is just a better version of lip gloss, providing all the color and shine without the sticky, artificial chemicals factor. These oils leave my lips feeling significantly more nourished, plump and soft.
The color, Kyoto Red, is one of the most "distinctive, symbolic colors" of Japan, according to Tatcha's website, and brightens up my lips just enough without being too loud. Best of all, the color is sheer enough to wear to work or any daytime activity, but the sheen makes it dressy enough for a formal event.
Eventually, my mother bought another one for herself (it's limited edition). While she was shopping, she also brought the brand's Kyoto Red Silk Lipstick, which can be worn by itself or underneath the lip oil for a brighter red and longer lasting wear. Now our family fights a little less, and our lips are more moisturized too.
If you buy something through our links, New York may earn an affiliate commission.