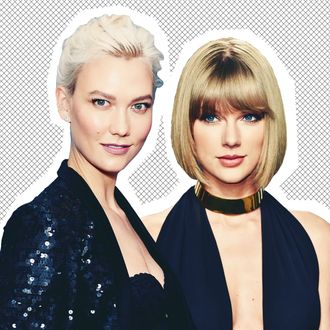 Karlie Kloss and Taylor Swift.
Photo: Getty Images
Welcome to You Know What I Heard, the Cut's weekly celebrity gossip column about the peregrinations of the rich and famous. Have gossip? Email me at allie.jones@nymag.com, send me a message on Twitter, or contact me on Signal (ask for the number).
It's 2018: a year full of terrifying possibilities, like the fact that Karlie Kloss and Taylor Swift may no longer be friends. The longtime besties, who posed together for the cover of Vogue in 2015, have been less expressive with each other over the last year or so, and now Kloss has done the unthinkable. On Monday, she posted a video on Twitter and Instagram with the caption, "Swish swish," which is the name of Katy Perry's hate song about Swift. Why?
The video itself is part of LOVE magazine's Advent Calendar series, which is a short film project where Instagram models and Victoria's Secret Angels wear suggestive outfits while exercising. (That's really all you need to know.) Kloss's video is basketball-themed. So, "Swish swish" could be a totally benign reference to the game. Except, nothing in Taylor Swift's world means nothing, and her fans are freaking out in the comments of Kloss's Instagram. Some of them are invested in the theory that Kloss and Swift are actually romantically involved (#Kaylor), and now, oh my God, what is happening? Swift hasn't said anything about her friendship or more-than-friendship with Kloss, but sometime last night, Kloss changed the caption on her Instagram to read, "Nothing but net." Too late, in my opinion.
Swift is still officially dating the 26-year-old British actor Joe Alwyn, and according to multiple reports, they spent New Year's Eve together in Los Angeles. Where was Kloss?
Per Instagram, she was in Peru with her boyfriend, Josh Kushner (brother of Jared), and a party corps including Derek Blasberg (professional celebrity friend), Dasha Zhukova (ex-wife of Russian billionaire Roman Abramovich), Erin Foster (daughter of David), Kristina O'Neill (editor of WSJ magazine), and Jen Meyer (celebrity jewelry designer, leader of the Hollywood mom's club, and ex-wife of Tobey Maguire). Swift, to my knowledge, is not friends with any of these people, though they are all rich and powerful in their own spheres.
Meanwhile, Tobey Maguire was skiing in Aspen with his captain Leo DiCaprio. There are photos of the two them taking on the mountain here. As you can see, DiCaprio wore a disguise: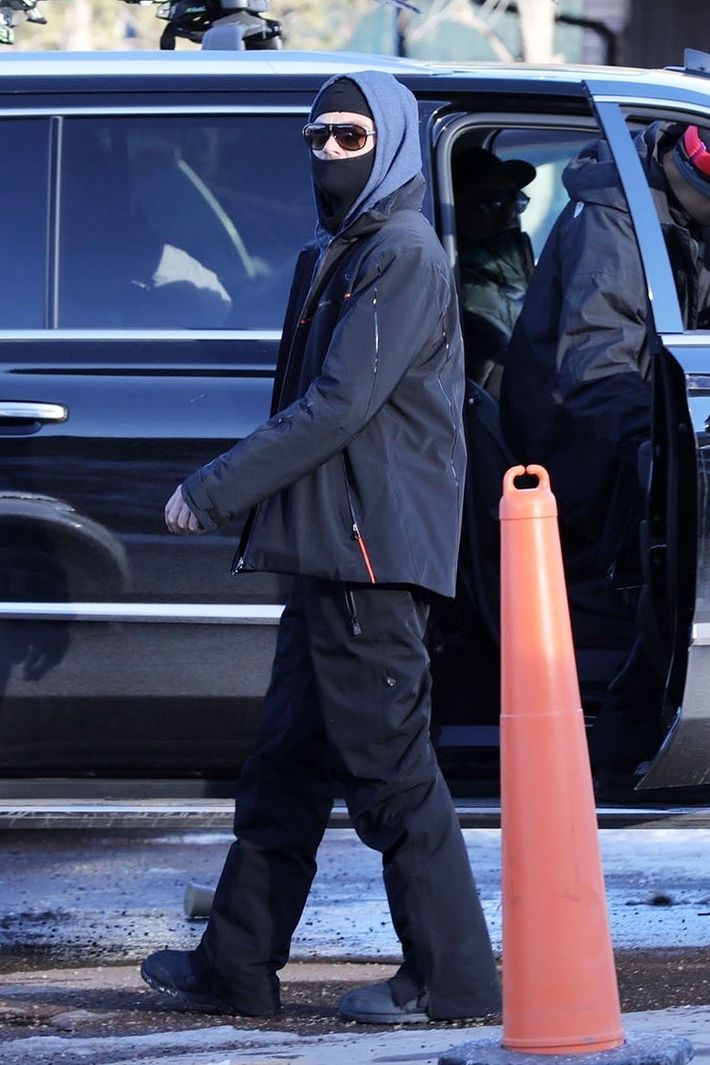 Know who else was in Aspen for New Year's? Several other celebrities, but also DiCaprio's rumored new girlfriend, the 20-year-old model Camila Morrone. The pair made headlines just before Christmas, when DiCaprio was spotted leaving Morrone's house in L.A. on a Saturday morning. Despite this evidence and the fact that Morrone is very much DiCaprio's type, a source close to DiCaprio told the Cut that they are not dating. In fact, their families are friends! Morrone's mother, Lucila Sola, has been dating DiCaprio's pal Al Pacino for years. Here are photos of Sola and Pacino on the beach together in Mexico in April. (For the record: Sola is 38, DiCaprio is 43, and Pacino is 77.)
So which celebrities definitely hooked up over the holidays? Selena Gomez and Justin Bieber continued their dramatic reunion tour in Cabo on New Year's Eve. Both reportedly traveled to Mexico with friends. "Justin had a great New Year's Eve with Selena," a source told E! News. "He is looking forward to 2018 with her. It was a special evening shared with a few close friends in a beautiful place." Okay!
Other couples stayed closer to home. The officially-back-together Jenny Slate and Chris Evans spent Christmas together in Boston, and Ben Affleck and Lindsay Shookus stayed in L.A. According to People, Affleck reunited with Jennifer Garner and their kids for Christmas. Here are some photos of Affleck and Shookus looking super pleased on the 26th.
Jennifer Aniston marriage to Justin Theroux is totally fine! According to Us Weekly and People, anyway. Both tabloids ran stories in the last week assuring the public that even though Aniston and Theroux spend a lot of time apart, they are still in love. Why the sudden, insistent reminder? According to similar-sounding sources in both stories, there have been "rumors" that Aniston and Theroux are living separate lives and headed for a breakup. (They got married, after what some would call a very long engagement, in 2015.)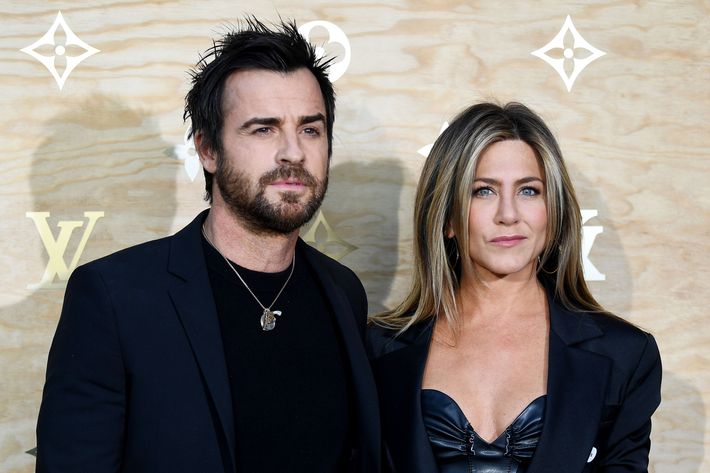 The sources don't deny that Aniston and Theroux spend time apart, they just clarify that they uh, like it. Here's one source to People: "This has not hurt their marriage at all, it seems to help. They love and respect each other and do spend a lot of time apart. For them, it is a healthy part of their romance." Another source told Us Weekly that the couple does "their own thing a lot of the time," because Aniston prefers to live in L.A. and Theroux likes New York. "But they knew that about each other from the beginning and decided it wasn't an issue. It doesn't mean they're splitting up," the source added.
So. Jennifer Aniston and Justin Theroux sometimes live separately, but that's a good thing. And anyway, they were together for New Year's Eve in Cabo (with Jason Bateman and his wife, Amanda Anka). Nothing to worry about here.
One small blessing from this week:
You've probably seen it by now, but if not, please enjoy this photo of Laura Dern kissing her new boyfriend, NBA All-Star Baron Davis, while he holds her purse outside the Beverly Hills Hotel.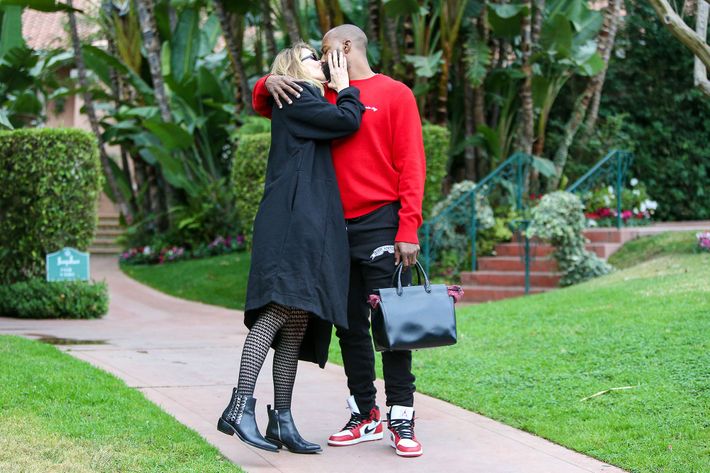 Finally, I'll leave you with a question: Has Kylie Jenner secretly given birth? The pregnant 20-year-old was conspicuously absent from all of the Kardashian Krismas photos, leading some dedicated followers to believe she already had her baby. TMZ reported on Tuesday that she did not go out for New Year's Eve, despite the fact that her boyfriend Travis Scott was performing at LIV nightclub in Miami. (Her friends Justine Skye and Hailey Baldwin were there.) And she's barely been photographed at all since news of her pregnancy broke in September. What do you think?
Thanks so much for gossiping this week. Don't forget to email me at allie.jones@nymag.com, send me a message on Twitter, or contact me on Signal, if you'd like to chat.