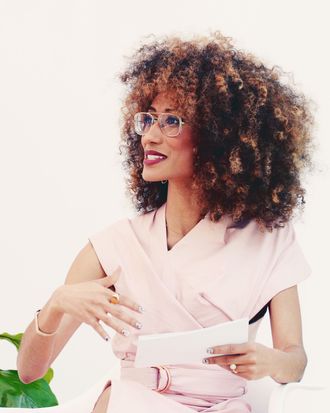 Elaine Welteroth.
Photo: Vivien Killilea/Getty Images for Teen Vogue
Elaine Welteroth, Teen Vogue's editor-in-chief who's credited with helping to build the publication's socially conscious bent, is leaving Condé Nast, Fashionista reports. She announced her departure in an internal email to staffers earlier today.
When Welteroth assumed her position in April 2017, she broke Condé Nast records: She was both the youngest person and the second person of color to hold the position of editor-in-chief at any publication. She was tasked with running Teen Vogue's print version while digital editorial director Phillip Picardi was to oversee the online presence.
Therefore, when Condé Nast killed Teen Vogue's print edition in November 2017, there was speculation that Welteroth may move to another Condé Nast publication, such as Glamour or Allure. Welteroth held positions at Ebony and Glamour before starting at Teen Vogue in 2012 as the beauty and health director.
While Condé Nast tried to get Welteroth to stay, according to a Condé Nast spokesperson, she decided to leave the company altogether.
"We talked to Elaine about a number of different opportunities but ultimately she decided to go in a different direction," the spokesperson told Fashionista. "She was instrumental in the successful launch of the Teen Vogue Summit and know that she will carry that same passion and enthusiasm into her next venture. We wish her all the best in what we know will be an incredible career."
And it sounds like she'll be going from TV to TV. According to The Hollywood Reporter, Welteroth has signed with talent agency CAA, "to expand her opportunities in film, television, digital, branding, and endorsements as well as speaking engagements."
This post has been updated to reflect The Hollywood Reporter's story on Welteroth's deal with CAA.