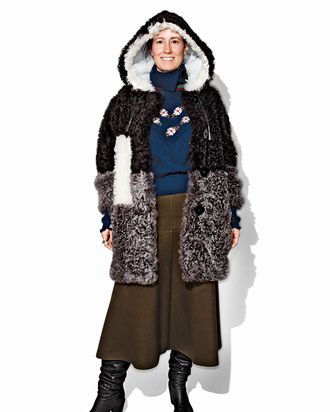 "I look around and see people in jean jackets and sweatshirts and want to go up to them and say, 'I can help you! No cotton!'"
Photo: Bobby Doherty/New York Magazine
Liz Klein, Art Adviser
That looks like a very warm coat.
It is. It's Fendi. I like the cold. I don't like to be cold, but I know how to dress for the cold. You have to channel Julie Christie and Omar Sharif from Doctor Zhivago and look like you're about to set out across the tundra in a sleigh. In the winter, I only wear wool and fur. I look around and see people in jean jackets and sweatshirts and want to go up to them and say, "I can help you! No cotton!" Cotton is a plant, it attracts moisture.
Where are you from? 
I grew up in Manhattan, on the Upper East Side, and went to an all-girls school — Nightingale. Growing up here, you miss out on pool parties, cheerleading, and drunk driving. Instead, we got to go out dancing all the time — to Tunnel, Limelight, Palladium. We would wear these tiny tight spandex skirts and oversize men's coats we'd buy from Canal Jeans. It'd be the dead of winter, we'd be waiting in line to get into these clubs, and these coats were not warm at all.
Lightning Round
Neighborhood: "Downtown."
Reading: Anna Karenina, "for my book club. We have an English professor come and walk us through the books so we don't sit around and gossip and chitchat."
Favorite New York meal: The sea urchin at Omen.
Last TV show binged: The Crown.
Most-missed New York spot: Florent.
*This article appears in the January 8, 2018, issue of New York Magazine.