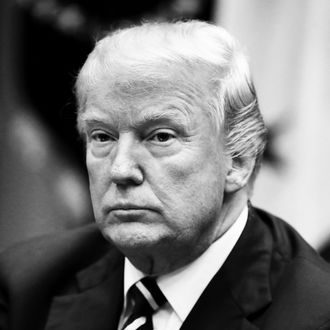 Donald Trump.
Photo: Mark Wilson/Getty Images
During an Oval Office meeting on Thursday, President Donald Trump reportedly bashed immigration from "shithole countries," including Haiti, El Salvador, and African nations. According to the Washington Post, Trump asked, "Why are we having all these people from shithole countries come here?" The president then reportedly suggested that immigrants from Norway would be preferable.
Understandably, many people were offended by Trump's remarks (which the White House essentially confirmed, but the president later denied on Twitter). And several people, including news anchors and politicians, called the president out with righteous rebukes to his comments. Here are some of the best.
Don Lemon
On Thursday night, CNN's Don Lemon said at the opening of his program, "The president of the United States is racist." He then proceeded to call the remarks "disgusting," before adding, "There's other language I'd like to use, but we are on television. But you know what? They're not shocking. They're not even really surprising. Because this is who Donald Trump is."
Anderson Cooper
Also on CNN, Anderson Cooper slammed Trump for his comments on Thursday night, holding back tears as he defended the people of Haiti. "Let me be clear tonight," Cooper said. "The people of Haiti have been through more, they've withstood more, they've fought back against more injustice than our president ever has." Cooper then described the horror and devastation he witnessed in Haiti after the 2010 earthquake, and the strength of the Haitian people.
Senator Kamala Harris
In a pair of powerful tweets on Thursday, Democratic senator Kamala Harris of California wrote that immigrants have helped build the nation, and that they should be "welcomed and celebrated, not demeaned and insulted." She also called the U.S. a "country of immigrants."
Senator Richard Blumenthal
Appearing on MSNBC on Thursday night, Democratic senator Richard Blumenthal of Connecticut called Trump's remarks "insidious racism masquerading poorly as immigration policy." Blumenthal went on to say the remark "smacks of blatant racism" and that Trump doesn't speak for him as an American. "He demeans and betrays American values with these kinds of remarks."
Representative Dina Titus
Democratic representative Dina Titus of Nevada took to Twitter on Thursday to comment on Trump's remarks, calling the president a "vile stain on our country's reputation."
Ana Navarro
CNN political contributor Ana Navarro on Thursday called Trump "shamelessly racist." She told Anderson Cooper, "We cannot normalize the fact that Donald Trump has turned the Oval Office into a shithole — into a morally bankrupt place where there are lies and division and racism that comes out every single day."
Symone Sanders
Symone Sanders broke down Trump's "racist" remarks for former representative Jack Kingston on CNN on Thursday. "That's not even coded, that's just straight-up racist," she said of Trump's comments. "He's making broad generalizations about an entire group of people based on where they live because he's ignorant about their experiences."