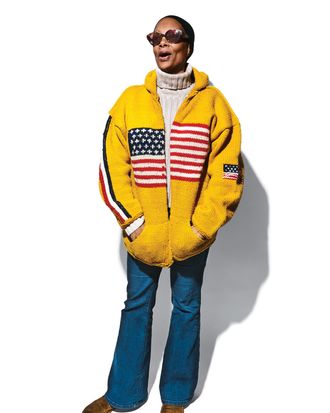 "I was a model for ten years and was photographed with Givenchy for
WWD
."
Photo: Bobby Doherty/New York Magazine
Tadree Coppedge, Real-Estate Agent
Are there any deals out there to be had?
That whole Sutton Place area has some really interesting deals, believe it or not. Two-bedrooms over there are going for $2 million; the same apartment on 12th between Fifth and Sixth would be $3 million or even $3.5 million.
What about anything … cheaper? Say, a two-bedroom under a million?
Well, I only know Manhattan, and no, I really don't see that kind of deal available. What one would have to do is find a small one-bedroom in a walk-up building with a studio adjacent, buy both, and then combine.
Where do you live?
I rent an apartment in the East Village.
Do you live alone or do you have a partner?
I don't date anymore. I've lost trust in men. All of my girlfriends that are married — had they known what their husbands would have been like, they wouldn't have married them. All of them. I have a saying when it comes to men: I can't screw you and change your diapers, too, because I'm not a pedophile.
Lightning Round
Born in: White Plains.
Before real estate: "I was a model for ten years and was photographed with Givenchy for WWD."
Sweater: "I bought it after 9/11 from a South American woman selling sweaters outside the Astor Place station."
Dream address: "Either the penthouse of the Pierre, the penthouse of the Woolworth Building, 157 West 57th, or 220 Central Park South."
*This article appears in the January 22, 2018, issue of New York Magazine.