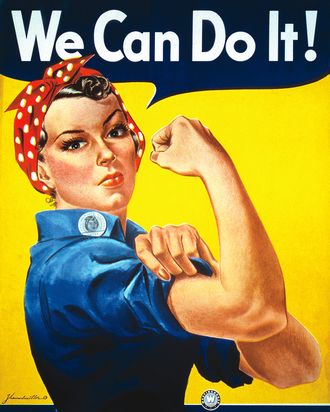 Naomi Parker Fraley, the woman who inspired "Rosie the Riveter," died Saturday at the age of 96, the New York Times reports. But it was only recently that she became recognized as the face behind J. Howard Miller's iconic poster.
When Fraley was 20, she and sister Ada joined scores of women working for the country's armed forces during World War II — the two of them were employed in the machine shop of the Naval Air Station in Alameda, California. In 2011, they went to a reunion for fellow women war workers and saw a newspaper photo that was credited as the model for Rosie the Riveter — and it turned out to be a photo of Naomi. The problem was, it was credited as Geraldine Doyle, who was long believed to be the woman who inspired the 1943 poster.
Via some letter writing and help from professor James J. Kimble, by 2016, Fraley was recognized as the real Rosie.
"The women of this country these days need some icons," Fraley told People that year. "If they think I'm one, I'm happy about that."