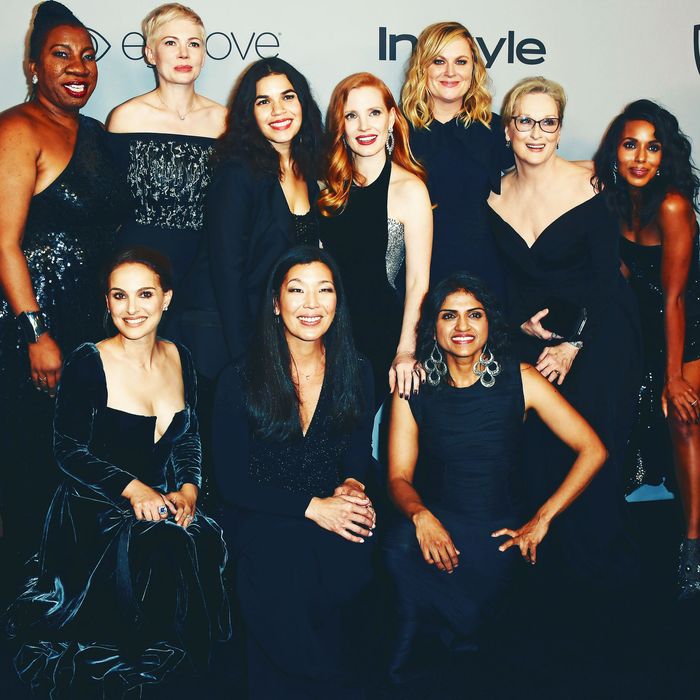 Photo: Frazer Harrison/Getty Images
At last night's Golden Globes, everybody looked the part. Men and women alike wore black eveningwear and "Time's Up" pins to show their support for the feminist reckoning taking place in their industry and in the world at large. Various female luminaries (and Seth Meyers) sounded out notes of optimism. Oprah took us all to church: "I want all the girls watching right now to know that a new day is on the horizon, and when that new day finally dawns, it will be because of a lot of magnificent women," she proclaimed, as eyes watered throughout the room.
And yet, it's hard not to imagine that if this same event happened a few months back, if things had all unfolded a bit differently, Harvey Weinstein could have been right there in the audience, seated alongside Meryl Streep and Oprah, wearing black and unabashedly displaying his Time's Up pin.
More than the beautiful black dresses, more than the uplifting speeches or the embarrassing moments or the surprise victories, what was overwhelming about last night's ceremony was a sense of incompleteness. Of course, awards shows have always been occasions for Hollywood to spackle over blemishes and present a shining face to the public — they're multimillion-dollar publicity vehicles designed to sell a fairy tale, with all the seedy machinations happening behind the scenes. (The awards-show campaign is an industry Weinstein pioneered, after all.) On an evening that promised to turn the typical awards show on its head, though, it was easier than ever to see the gaps between reality and the story the show was telling. Weinstein and Kevin Spacey, toppled from their pedestals, are now punch lines and monologue fodder, but it has come to feel like a thin wall separates the "bad men" locked out of the room and those still guaranteed a seat comfortably inside.
Back when the #MeToo allegations were first coming out, there was a lot of talk about "whisper networks," the secret channels women use to warn one another about predators in their midst. Using social media during the ceremony — increasingly an integral part of the viewing experience — felt a bit like being part of one large whisper network, providing a counter-narrative to the ceremony in real time, puncturing any glossy image of solidarity or progress.
It happened when James Franco went up to receive his award. First there were the tweets from Ally Sheedy, who worked with Franco in the past, implying that she had her own #MeToo story about the actor. Others were quick to point out Franco's own uncomfortable history with women, including allegedly using Instagram to hit on a 17-year-old girl. Gary Oldman proudly wore a #TimesUp pin as he accepted his best actor award, yet Oldman is an accused abuser; the third Google hit for Oldman, after Wikipedia and IMDb, is a Daily Beast article called "Gary Oldman: The Oscar Frontrunner With a Dark Past." (And let's not forget his recent defense of Mel Gibson, although Hollywood has yet to decide if it feels about racism the same way it does about sexism.) Kirk Douglas, now age 101 and in a wheelchair, was trotted out alongside Catherine Zeta-Jones like some quaint Old Hollywood relic; online, viewers pointed to the rumors that he raped Natalie Wood, which initially circulated in a 2012 Gawker article (the same forum in which the Louis C.K. allegations were first reported). And of course, the room was full of people who have recently worked on a Woody Allen movie — such as Justin Timberlake, who starred in his recent film, and who proudly tweeted a photo of himself wearing a #TimesUp pin. There isn't always a clear logic to which allegations stick and which are ignored — a hypocrisy that we continue to reckon with in real time.
And that's just the men we have heard about. It's hard not to imagine that a number of the men feted last night could well be unmasked as perpetrating the exact toxic behavior they were publicly protesting. Or, as the New York Times' Margaret Lyons put it:
Watching the Globes with one eye on social media, it was difficult to find cheer in Oprah's assurance that a new day was dawning. What was more evident was the ongoing messiness of our current reckoning — the difficulty of finding any sort of firm ground to stand on in a world of moral murkiness. Events like awards shows spur a desire to sort the good from the bad; indeed, already this morning we're celebrating the women who used their platform and criticizing the men who largely said nothing (so, most of them). Yet while events like awards shows and red carpets prompt a desire for clean categorization — best- and worst-dressed lists, highs and lows, snubs and surprises, woke and oblivious — last night's ceremony shows the difficulty of trying to constrain an epidemic as far-reaching, complex, and amorphous as sexual harassment and misogyny to such neat confines. This is not a television-friendly feminist moment we're dealing with. This is not Beyoncé at the VMAS, with the word FEMINIST projected in bold caps behind her. As Rebecca Traister put it a few months ago: "This is not feminism as we've known it in its contemporary rebirth … this is '70s-style, organic, mass, radical rage, exploding in unpredictable directions."
Perhaps an even more dramatic change than everybody wearing black on the red carpet is the force of this social-media counter-narrative — the fact that, in 2018, whisper networks have burst out into the open. The fact that when Ally Sheedy tweets about James Franco and #MeToo, people pay attention. The fact that Natalie Portman has the audacity to call out the "all-male" field of nominees she's about to honor, and viewers take her point seriously. The fact that so much of what was once left unsaid or ignored is now coming out of the shadows.