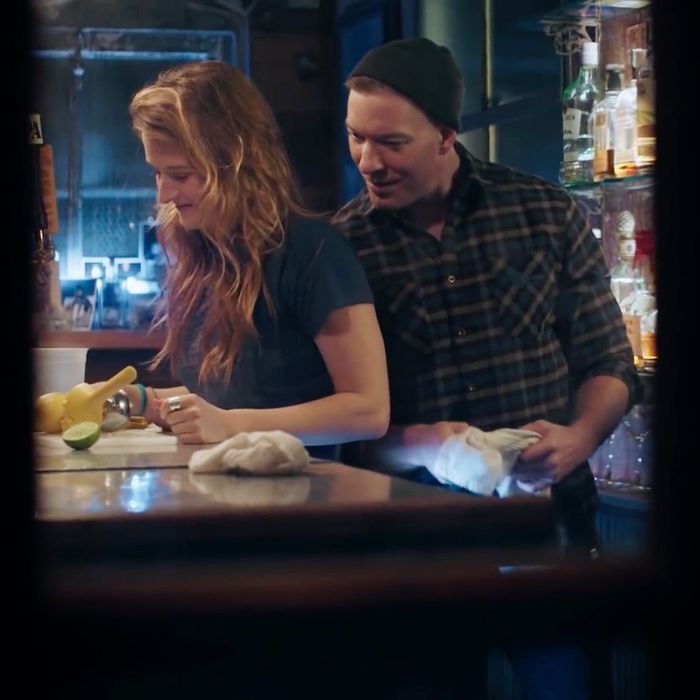 The Coworker
.
Photo: Courtesy of YouTube/ThatsHarassment
Back in April, former Friend David Schwimmer, and writer and director Sigal Avin, launched a series of PSAs on Facebook called #ThatsHarassment to illustrate what sexual harassment really looks like. When the Harvey Weinstein scandal broke in October, though, Schwimmer decided the videos needed a broader distribution. Beginning on Friday, edited, 30-second versions of the videos will be shown on TV and streaming services like Fox, CBS, Showtime, Hulu, and Amazon, as well as in New York City taxis, the New York Times reports.
The series, which includes performances by stars like Cynthia Nixon, Bobby Cannavale, and Grace Gummer, is inspired by five short films Avin wrote and directed in Israel, based on real-life stories of men harassing women. Last January, Avin approached Schwimmer to help produce American versions of the videos.
"I realized that I really wanted to see what sexual harassment was instead of hearing about it and reading about it all the time," Avin told Cosmopolitan in April. "There was nothing on it, everything was much more violent, or unreal, but there was nothing that showed the gray area of sexual harassment."
Speaking with the Times, Schwimmer said men have not been outspoken enough about the issue of harassment.
"Look, men have a lot to learn, but you're not going to learn anything without dialogue," he said. "Men commit the vast majority of rapes, sexual assault and sexual harassment, so men have a special responsibility to do something about it and get involved."
Watch one of Avin and Schwimmer's films, The Coworker, below, and read experts' annotations of the script here.