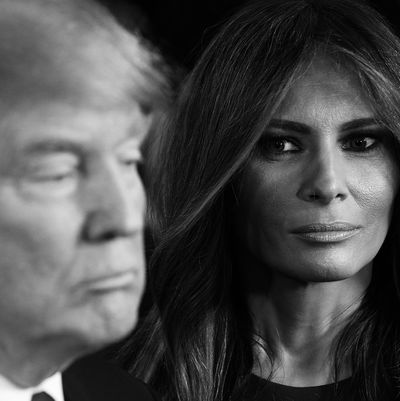 President Trump and Melania Trump.
Photo: Chip Somodevilla/Getty Images
When the world sees Melania Trump at the president's first State of the Union — which yes, in theory, she's planning to attend — we'll have a better idea of what she's thinking thanks to the latest New York Times report from Katie Rogers and Maggie Haberman.
According to the Times, the First Lady did get in a smidge of spa time at Mar-a-Lago in the last week. But she is reportedly still really annoyed that her husband allegedly paid off porn star Stormy Daniels after an allegedly illicit dalliance in 2006. (Mr. and Mrs. Trump married in 2005, and Melania would have been pregnant with their son Barron when President Trump was watching Shark Week and hooking up with Daniels.)
"Mrs. Trump and the president have had a tumultuous relationship at times over the years, but few episodes have roiled the peace as much as the news surrounding Ms. Daniels," the Times writes. "The reports of a payoff blindsided the First Lady, who was furious with her husband, according to two people close to the couple. She has kept a low profile since."
Plus, per the Times, White House historians think the First Lady could be at her wits end.
"First ladies from Jackie Kennedy to Hillary Clinton to Laura Bush have stood by their husbands at the lowest points in their presidency," Kate Andersen Brower, author of First Women: The Grace and Power of America's Modern First Ladies, told the Times. "We're seeing a different example with Melania of a woman who has maybe had too much."
Read the full story here.