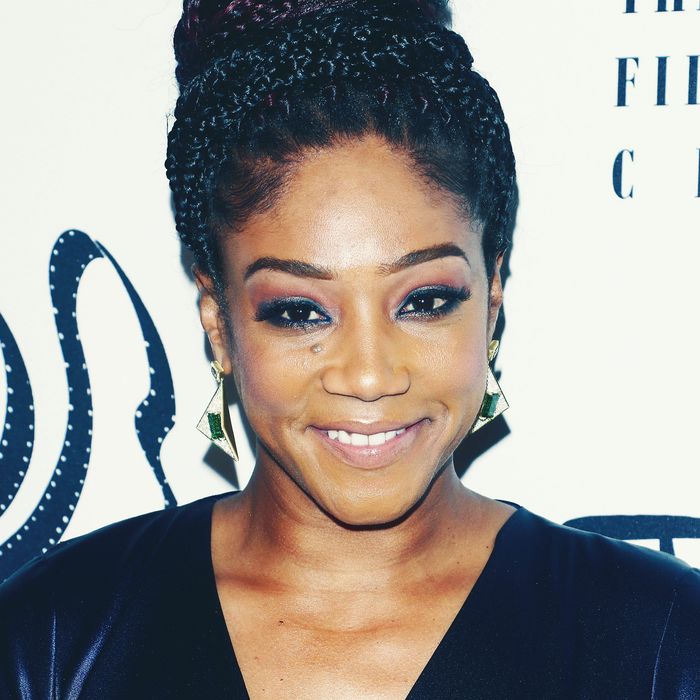 Photo: Jim Spellman/WireImage
Last night's New York Film Critics Circle awards ceremony became, in effect, a Tiffany Haddish Rules ceremony. From the multiple other winners and presenters who mentioned her — Timothée Chalamet gave a shout-out to her talent with grapefruits, Paul Thomas Anderson offered her his phone number and a role — to her own showstopper of an acceptance speech for Best Supporting Actress, the night belonged to her.
Over the course of 18 minutes (yes, 18!), she thanked her friends, family, critics, the Girls Trip cast and crew, and God, and then gave all of us a gift for supporting her: a vivid description of an improvised moment from the movie that tragically never made it onscreen. "Universal said that they was afraid that women would actually do this shit?" Haddish explained. "So they didn't put it in there, because they didn't want to get sued."
Here's the set-up for the scene: Haddish plays Dina, a ride-or-die friend who's trying to console her bestie Ryan (Regina Hall) after she finds out her husband cheated on her with an Instagram "model." This is how Haddish would have played it:
"There's a scene where I'm telling Regina all the things I'm gonna do for her. I've got her back. 'And then when he asleep, we're gonna burn your name in his dick. Then we're gonna put mud and salt on it so it will keloid over. And then it will be ribbed for your pleasure. And then when he wake up, we'll look him dead in his eyes. And we'll tell him right to his face, to keep your name out of these bitches' mouths.'




Now they took that out of the movie, but I like to tell everybody about it, because these are the things I think about at night sometimes. Don't hurt my feelings, Michael B. Jordan. I'm just putting in my card, player. I'll check your credit score, though, to make sure you qualify."
When Haddish wins her Academy Award, y'all better not play her off during her speech, so help me god.