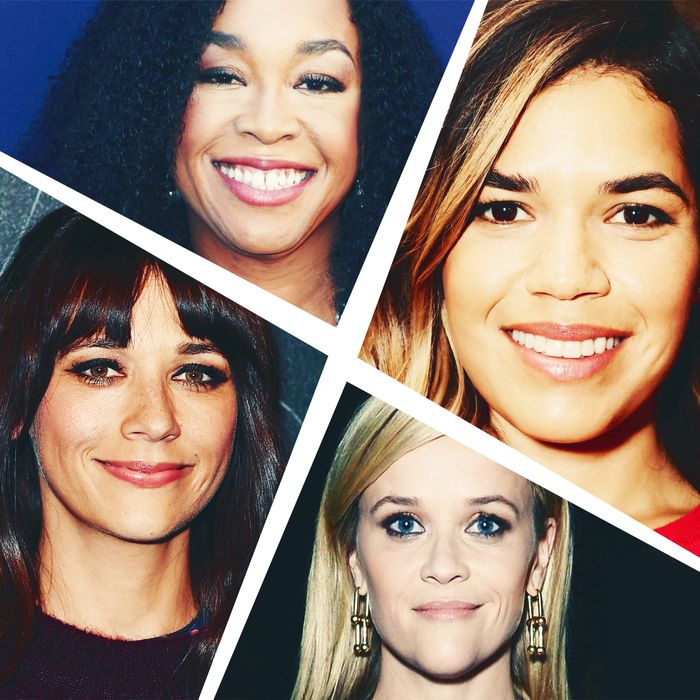 Rashida Jones, Shonda Rhimes, America Ferrera, Reese Witherspoon.
Photo: Getty Images
On New Years Day, 2018, the New York Times ran a full-page letter of solidarity signed by 300 prominent women in the entertainment industry, expressing their support for working-class women who have experienced sexual misconduct. The signatories were part of Time's Up, a new initiative supported by hundreds of powerful figures in Hollywood, and aimed at combatting sexual harassment in the entertainment industry and beyond.
So far, the initiative has launched a legal defense fund to help under-privileged women fight against sexual harassment and retaliation, advocated for gender parity in studios and agencies, and called for all women walking the red carpet on Sunday's Golden Globes to wear black.
So what exactly is Time's Up? Who's in it? How does it work? Here's what you need to know.
What is it?
Time's Up is not a traditional advocacy organization. According to the New York Times, it's a leaderless collective made up of volunteers who form working groups to address specific issues related to sexual harassment and inequality in the workplace.
Who is in it?
Hundreds of prominent Hollywood figures are members of Time's Up, including Shonda Rhimes, Reese Witherspoon, America Ferrera, Eva Longoria, Ashley Judd, Rashida Jones, Emma Stone, Natalie Portman, Kerry Washington, the chairwoman of Universal Pictures, Donna Langley, Maria Eitel, the co-chairwoman of the Nike Corporation, and the list goes on. As of now, over 1,000 people have signed their names to the Letter of Solidarity.
How does it work?
Because Time's Up has no leader, volunteers form their own working groups. For example, one working group helped form the Commission on Sexual Harassment and Advancing Equality in the Workplace, a commission led by Anita Hill, which is working to end sexual harassment in media and entertainment. Another working group called 50/50by2020 aims to reach gender parity in Hollywood by 2020.
What does it do?
In addition to its various working groups, Time's Up also has a Legal Defense Fund to subsidize legal support for women, especially working-class women, who have experienced sexual harassment in the workplace. The fund is being led by Tin Tchen, Michelle Obama's former chief of staff, and its major donors include Meryl Streep, J.J. Abrams and his wife, Katie McGrath, Reese Witherspoon, Shonda Rhimes, Steven Spielberg, and Kate Capshaw.
You can donate to the Time's Up Legal Defense Fund here.
Is it the same as #MeToo?
Although it was inspired in part by the #MeToo movement, Time's Up hopes to expand the conversation about sexual harassment beyond just the accusers of powerful men, and include more advocacy for working-class women, whose experiences with sexual misconduct are often overlooked.
What does it have to do with the Golden Globes?
Time's Up has encouraged women attending the Golden Globe's on Sunday to wear all black as a way of showing their solidarity with victims of sexual harassment.
"For years, we've sold these awards shows as women, with our gowns and colors and our beautiful faces and our glamour," Eva Longoria told the New York Times. "This time the industry can't expect us to go up and twirl around. That's not what this moment is about."
For more information, check out the Time's Up website here.