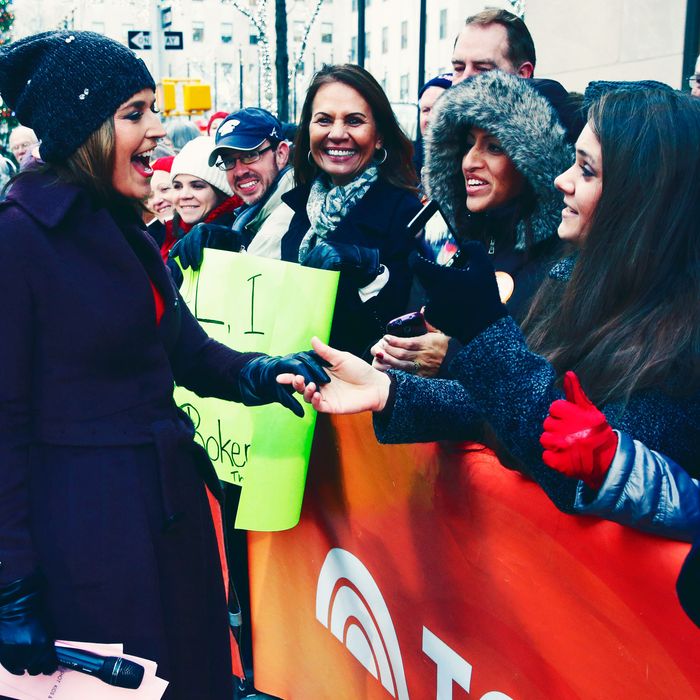 Savannah Guthrie on
Today
.
Photo: NBC NewsWire/NBCU Photo Bank via Getty Images
Less than two months after bombshell sexual-harassment allegations against Matt Lauer emerged, NBC announced on Wednesday that Libby Leist was joining the Today show as its first female executive producer for the key 7 and 8 a.m. hours.
As Politico reports, NBC chairman Andy Lack informed the staff in a Wednesday memo that executive producer Don Nash was stepping down after three decades on the show for family reasons. In a separate note, Lack said Leist, who served as a senior producer on the show for the past five years, would be taking over the position. The move comes just two weeks after Hoda Kotb was named as Lauer's replacement (joining Savannah Guthrie) — making it the first time the show has been led by an all-female anchor desk.
"The Today show couldn't be in a stronger position. Savannah and Hoda have seamlessly taken their seats and we're off to a fantastic start in 2018," Lack wrote, per Politico. The chairman also noted that Leist started as a NBC News desk assistant in D.C. in 2001, since then has worked in several senior producer roles within the company.
But it's worth noting that the announcement was made the same day that former Today co-host Ann Curry told CBS This Morning that she witnessed a "pervasive" climate of verbal harassment during her time at NBC. Curry also said she would be "surprised" if someone claimed they didn't notice that behavior occurring at the network.