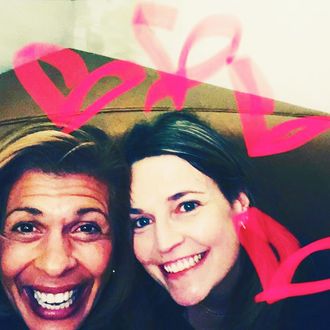 Best friends.
Photo: Courtesy of Instagram/savannahguthrie
Last week, NBC announced that Hoda Kotb would be joining Savannah Guthrie as co-host of the Today show, after longtime host Matt Lauer was fired amid allegations of sexual misconduct, and no one was more excited about the news than Hoda Kotb and Savannah Guthrie.
On January 2, Kotb's first official day as host, Guthrie said: "This has got to be the most popular decision NBC news has ever made," adding "It's so exciting. Hoda, you are a partner, and a friend, and a sister, and I am so happy to be doing this."
Clearly their first week went well, because this weekend, the two women posted matching selfies on Instagram to document their celebratory ladies' night together.
Guthrie drew a bunch of hearts on her post, and captioned it "It's ladies night and the feeling's right," while Kotb kept hers more straightforward, but added a second picture of Guthrie embarrassed that she finished a full plate of pasta. How fun!