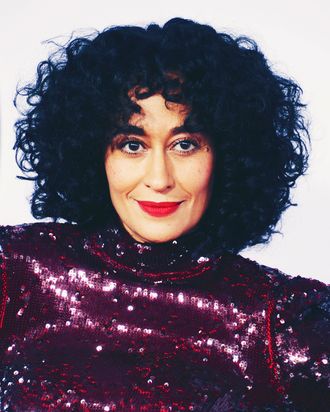 Tracee Ellis Ross.
Photo: Gregg DeGuire/WireImage
There's almost no "lewk" that Tracee Ellis Ross can't pull off. Over the Christmas holiday, for example, she styled herself in a purple, velvet fanny pack with an oversize puffer coat, pink socks, and Birkenstocks. And on Tuesday, Glamour magazine revealed its February cover featuring Ross in Louis Vuitton sneakers from the spring 2018 collection. Some might describe these particular platform shoes as "ugly," but Ross proves that in 2018, that's the highest compliment.
At this point, Ross is an ugly-sneaker connoisseur. One of our favorite fashion Instagrams from last year was of her wearing the ugliest style of them all: the Balenciaga Triple S sneakers, which have a similarly chunky sole. "Don't make fun of my shoes," she wrote in the caption. "I love them so much!"
In this particular Glamour spread, which was photographed by Patrick Demarchelier and styled by Jillian Davison, Ross wears sneakers in every photo. She pairs them with a sequin Marc Jacobs bodysuit, two pairs of '90s-style UFO pants, one fringe top, and a see-through turtleneck. She also wears her hair in bouncy, natural curls.
"I have always been attempting to make friends with my hair," Ross says in an accompanying interview with Emily Mahaney. After she tried every hair product in the world, Ross recalls her mother, Diana Ross, saying to her: "Listen to me: You either need to get yourself an incredibly good job, or a very wealthy husband to pay for your hair products alone, because they are going to break the bank."
Luckily, the Black-ish star got herself the former, which not only pays for expensive hair products, but for designer sneakers, too.