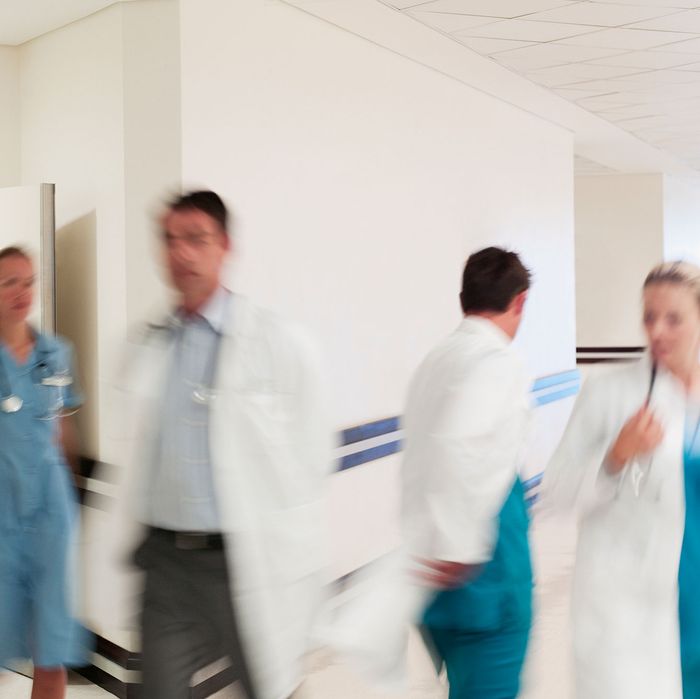 Photo: Martin Barraud/Getty Images
The Trump administration has established new protections for health workers who morally or religiously object to treating transgender patients and women seeking abortions, the Washington Post reports.
The new regulations, established January 18, led to the creation of a new division of the Health and Human Services civil-rights office: the Conscience and Religious Freedom Division. This new office will ensure that health-care providers who cite religious or moral objections have the right to opt out of doing procedures such as abortions. The office will also conduct outreach to support other employers aiming to give workers similar protections, Politico reports.
This discriminatory rule comes out of the HHS civil-rights office led by Roger Severino, a Trump administration appointee who is pro-conscience protections, anti-LGBT and abortion rights.
Severino, who is a religious conservative, told The Atlantic in June 2017 that he is "a big believer in [religious] conscience" and wants to make strengthening conscience protections for health-care workers a top priority of his office. Conscience clauses, which have been adopted by a handful of states, give health workers the right to deny certain medical services for reasons of religious beliefs or moral convictions.
Several national organizations and their representatives, such as Lambda Legal and the American Civil Liberties Union, publicly denounced the regulations after they were proposed. Sharon McGowan, the director of strategy at Lambda Legal, took to Twitter to express her disapproval.
"HHS should be in the business of making sure people get the healthcare they need, not creating licenses to discriminate. HHS better think twice before giving the OK to discrimination against LGBTQ ppl women & other vulnerable groups b/c @LambdaLegal won't stand for it," she tweeted.
Louise Melling of the ACLU wrote an op-ed in Fortune, in which she condemned the new division and pledged to fight against it if it's as discriminatory as it appears on paper.
"Medical standards, not religious beliefs or moral convictions, should guide our health care policies," she wrote. "No one should be turned away when they need medical help. No one should be humiliated, demeaned, and left to suffer because of who they are or the health care they need."
She continued: "And should the administration choose to move forward to implement a discriminatory policy, we will see them in court."
This post was updated on January 19, the day after the Conscience and Religious Freedom Division was established.