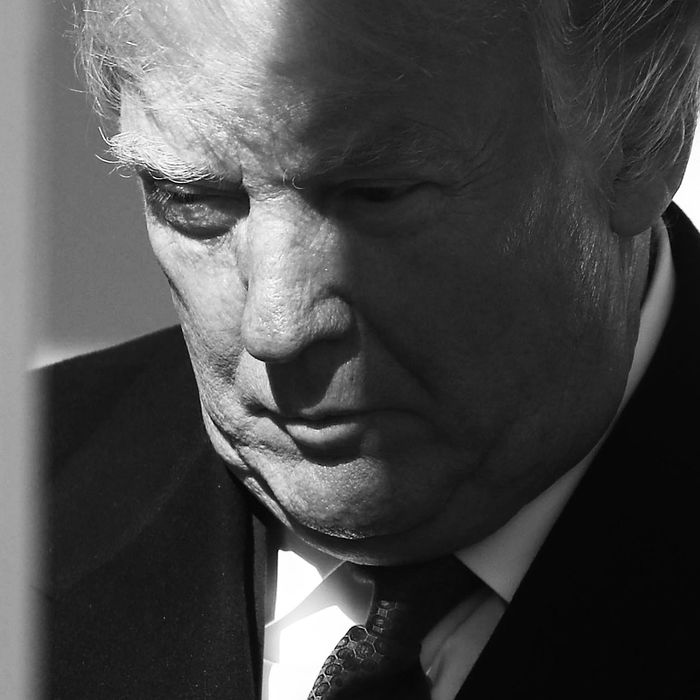 Donald Trump.
Photo: Mark Wilson/Getty Images
Before the government shut down at midnight Friday, Donald Trump wasn't really worried about the hundreds of thousands of employees who will be placed on furlough or the parts of the government that will temporarily cease operating. According to two sources close to the president who spoke to the Daily Beast, he was concerned the shutdown could keep him from his glitzy inauguration-anniversary bash.
The party, which is scheduled for tonight at Trump's beloved Mar-a-Lago resort, will both celebrate the president's first year and raise money for the Republican National Committee and Trump's reelection campaign. According to the Washington Post, the fête will certainly go on, with or without Trump — great news for the couples who already dropped $100,000 to eat and party with other jolly Trump supporters.
Because of the then-impending shutdown, Trump didn't depart for Mar-a-Lago yesterday afternoon as planned — and he was nervous. According to a White House official and one of the president's longtime confidants who talked to the Daily Beast, Trump had voiced concerns that a shutdown could force him to skip "my party."
Would Trump really miss an opportunity to celebrate himself? According to the Daily Beast, administration officials told reporters yesterday that the shutdown wouldn't necessarily prevent the president from making it to his bash, so it's possible — likely? — that he may skip town to party with the donor class. And, as is well-documented, Trump would never miss a presidential photo op.