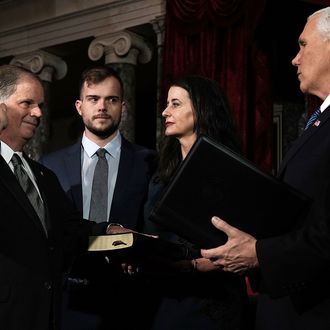 Photo: Alex Wong/Getty Images
This weekend marks one year since the inauguration of Donald Trump. If you care about the environment, immigrants, or women it can be hard to remember if anything good has happened during the last 12 months. But, in fact, a few things have. And they're worth remembering as we've got three more years of this administration ahead of us.
The country's first openly transgender state legislator was elected — in Virginia.
Danica Roem defeated a 73-year-old Republican who had served 13 terms and proudly called himself Virginia's "chief homophobe."
Montana elected its first black mayor.
Wilmot Collins came to the U.S. as a refugee from Liberia's civil war.
Minneapolis elected the first black transgender woman to serve in public office.
Andrea Jenkins won a seat on the city council.
In fact, many LGBT people and people of color won elections this year.
The Washington Post has a helpful list to review.
An accused pedophile lost an election in Alabama.
This seems like a low bar, but people really thought Roy Moore was going to win. And he didn't, in large part thanks to black women voters.
Women brought down Harvey Weinstein.
After decades of allegedly being allowed to abuse women in mindbogglingly creative and horrifying ways, Harvey Weinstein was finally exposed and taken down — all thanks to women who dared to speak up, and journalists Jodi Kantor, Megan Twohey, and Ronan Farrow.
And didn't stop there. 
There are too many names of powerful men who've been brought down since Weinstein to list here. From Hollywood to media to publishing to restaurants and academia, it seems like every industry has been reckoning with accusations of sexual misconduct. And while it's hard to call #MeToo a "good" thing, because it has been so acutely painful, the power of this movement is unquestionable.
Polio is on the verge of being eradicated completely.
And Bill Gates says he's setting his sights (and money) on malaria and AIDS next.
Newark Airport informed Chris Christie he is no longer very important.
Doesn't that sentence just make you grin?
Women made a bunch of really good and really successful movies.
Patty Jenkins's "Wonder Woman" broke a whole bunch of records, making her the top-grossing female director in the industry. Dee Rees's Mudbound was a Sundance favorite, and speculation suggests it may get an Oscar nom or two. Greta Gerwig's Lady Bird has been called "a perfect movie."
A notorious abusive gymnastics doctor was found guilty and will be sentenced.
Larry Nassar's abuse of more than 130 girls and women is horrifying. Next up on the accountability stage: USA Gymnastics and Michigan State University, who allegedly covered for him for years.
Bonnie Tyler sang "Total Eclipse of the Heart" during a total eclipse.
Hidden Valley started selling kegs of ranch dressing.
Find joy where you can.
A dry cleaner in Astoria started cleaning interview outfits for free for unemployed job-seekers.
Jaime Jinete told DNAinfo New York (RIP) that he started offering this deal after the election "just to give people hope."