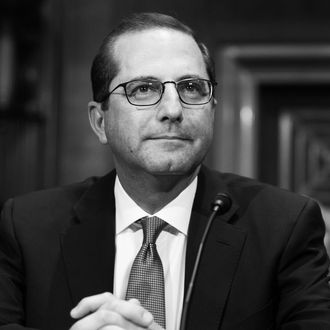 Alex Azar.
Photo: Tasos Katopodis/Getty Images
On Tuesday morning, Alex Azar — President Trump's nominee for Secretary of the Department of Health and Human Services (HHS) — will appear before the Senate Finance Committee for his confirmation hearing. In advance of this, Politico brings us a fun fact about Azar: his old drug company once tested Cialis, the erectile dysfunction medication known for those weird bathtub commercials, on children.
Azar served as president of Eli Lilly's U.S. operations from 2012 to 2017. (From 2005 to 2007 he worked as George W. Bush's Deputy Secretary for HHS.) During his stint at the pharmaceutical company, they found a curious way to extend their expiring patent on Cialis:
The drugmaker believed the erectile dysfunction drug might help a rare and deadly muscle-wasting disease that afflicts boys. The drug didn't work — but under a law that promotes pediatric research, Lilly was able to extend the Cialis patent anyway for six months — and that's worth a lot when a medication brings in over $2 billion a year.
Politico points out that this is completely legal and that their competitor, Pfizer, did something similar with sick children and the erectile dysfunction drug Viagra. But, as critics like Democracy Forward's Tyson Brody puts it, it shows that Azar "gamed the patent system to protect Eli Lilly's taxpayer-funded profits under the guise of helping sick kids."