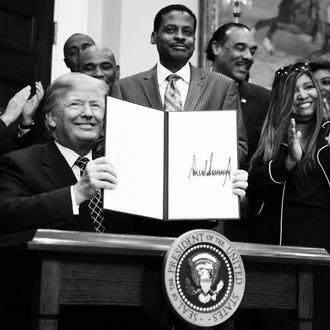 Trump signing the MLK Day Proclamation.
Photo: Bloomberg/Bloomberg via Getty Images
Journalist April Ryan attempted to ask Donald Trump if he's racist on Friday — just one day after the president reportedly bashed immigration from "shithole countries," including Haiti, El Salvador, and African nations. And, wouldn't you know it, Trump ignored her.
As Trump finished signing a proclamation to honor Martin Luther King Day, Ryan, the White House correspondent for American Urban Radio Networks and a CNN contributor, is heard in a video asking, "Mr. President, are you a racist?" She asked him again, and also followed up with, "Mr. President, will you respond to these serious questions about your statement, sir?" But he said … nothing.
Luckily, others have already answered that question for him.