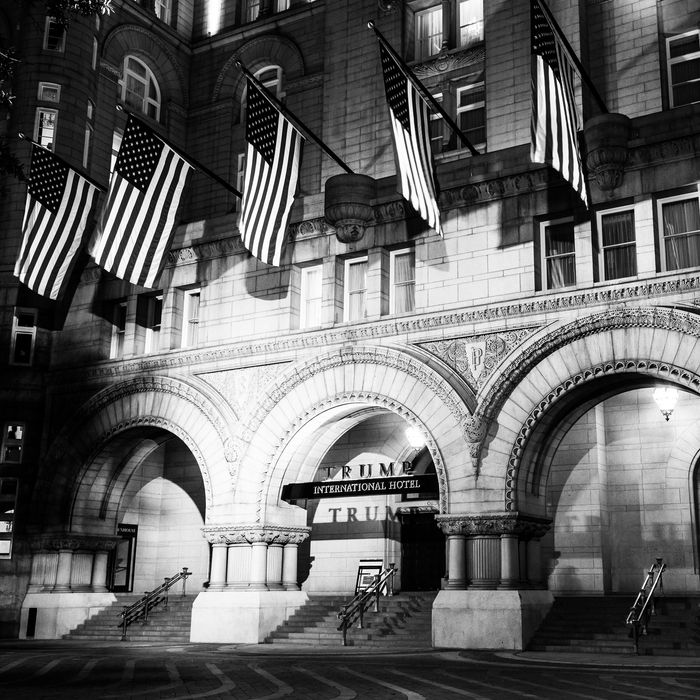 Photo: Bill Dally/Getty Images
Yesterday night, another one of Donald Trump's hotel locations got a makeover — and it wasn't a business driven rebranding job. A protest slideshow was projected onto Trump International Hotel in Washington, D.C., courtesy of Population Connection Action Fund.
One year after Trump's executive order reinstated The Global Gag Rule, protesters projected women's rights messages onto the hotel's facade, including "We won't stand by as women die," and "#Fight4Her" and "It doesn't take a genius to know family planning works."
Initially established by Reagan in 1984, the policy nicknamed the Global Gag Rule stopped federal funding for international nongovernmental family planning organizations that provide abortions or advocate for the procedure. Democratic presidents have a history of repealing the policy, while Republic presidents are usually quick to revive it; Obama repealed it in 2009, only to have the order reinstated by Trump in 2017.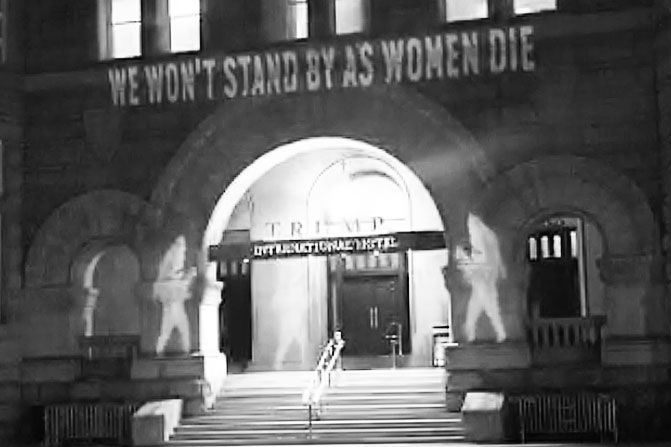 The stunt timing yesterday also coincided with the 45th anniversary of Roe v. Wade, which declared the criminalization of abortion unconstitutional.
Brian Dixon, Population Connection Action Fund's spokesperson said in a statement that Trump's policy puts the U.S. "on the side of oppression, not freedom." This is the group's second projection protest — earlier this month the word "shithole" appeared on Trump's D.C. hotel after he referred to Haiti and African nations as "shithole countries." In May, artist Robin Bell of Bell Visuals kicked off the popular protest medium after projecting "Pay Trump Bribes Here" onto the D.C. Trump hotel.