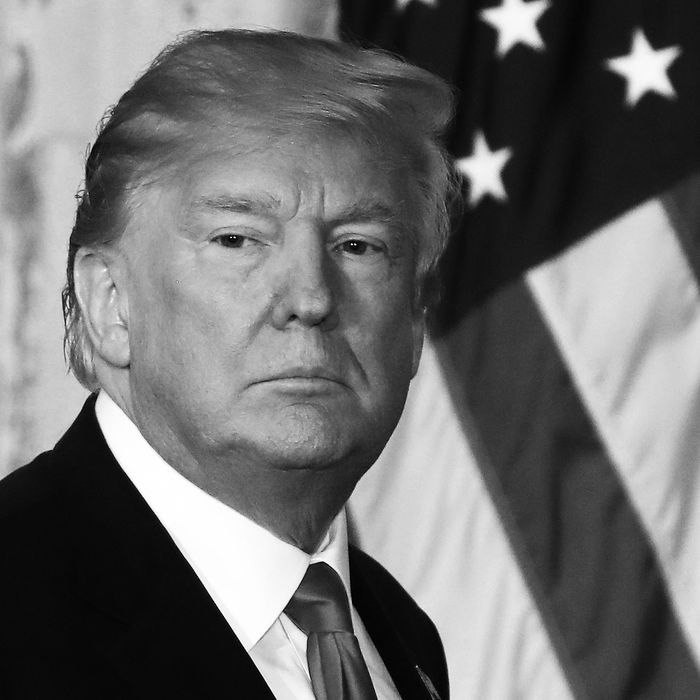 Donald Trump.
Photo: Mark Wilson/Getty Images
Shortly before the 2016 election, one of Donald Trump's lawyers reportedly arranged a $130,000 payment to a former adult-film star to keep her from publicly discussing a sexual encounter with the then-presidential candidate, The Wall Street Journal reports.
Attorney Michael Cohen reportedly arranged the payment for Stephanie Clifford in October 2016 as part of a nondisclosure agreement, people familiar with the matter told the Journal. Clifford, who also goes by the stage name Stormy Daniels, has privately alleged that the encounter with Trump occurred after they met at a celebrity golf tournament in Lake Tahoe in July 2006. (Trump married Melania Trump in 2005.) The Journal notes there has been no allegation that the encounter was nonconsensual.
The timing of the alleged payment to Clifford aligns with an onslaught of accusations of sexual assault and harassment against Trump in the month before the election. In October 2016, a video taken in 2005 was released, in which Trump bragged about groping women to Access Hollywood's Billy Bush. After the video's release, a number of women came forward to accuse Trump of sexual misconduct.
In November 2016, the Journal reported that Clifford had been talking with Good Morning America about coming on the program to discuss Trump. In the same article, the paper reported that the company that owns The National Enquirer paid $150,000 to a former Playboy model to keep her story of an affair with Trump quiet.
A White House spokesperson told the Journal about the alleged encounter between Trump and Clifford: "These are old, recycled reports, which were published and strongly denied prior to the election." Yet the spokesperson wouldn't respond to questions about any agreements with Clifford. The Journal notes it's unclear whether Trump was aware of any such agreement or payment involving her.
Furthermore, Cohen didn't address the alleged payment to the Journal, but did say of the alleged sexual encounter, "President Trump once again vehemently denies any such occurrence as has Ms. Daniels."