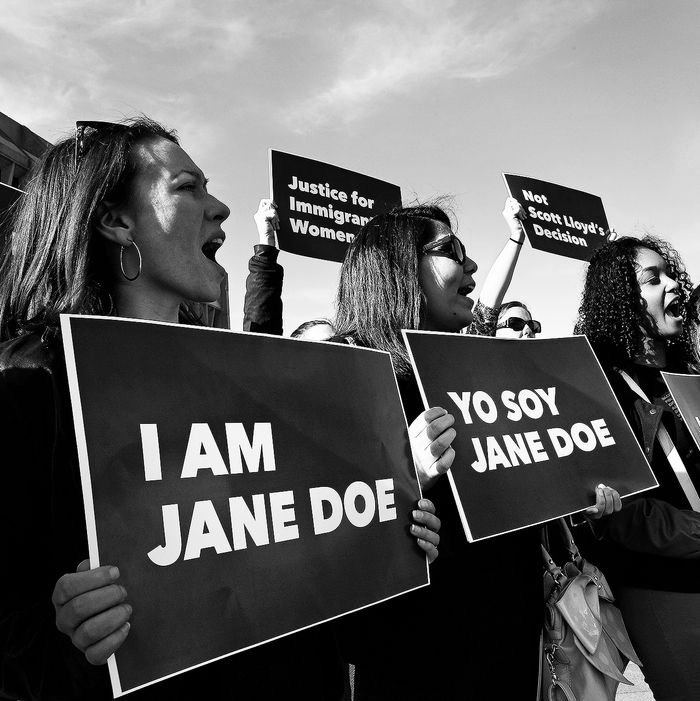 Photo: The Washington Post/The Washington Post/Getty Images
This past March, Scott Lloyd, the head of Health and Human Services' Office of Refugee Resettlement, reportedly suggested "reversing" an undocumented teen's abortion in scientifically dubious procedure, according to a new Vice News report.
At the time, the teen, Jane Doe, a 17-year-old from El Salvador, was at the center of a high-profile legal battle over whether she could have an abortion while detained by U.S. immigration officials.
Doe was caught trying to enter the U.S. illegally and learned she was pregnant through a medical examination at the border. She reportedly attempted to schedule an abortion but the Trump administration denied her request and the ACLU sued on her behalf. In October, an appeals court ruled in her favor and ordered that she be allowed to have an abortion.
Doe proceeded with a medical abortion. In this procedure, a patient takes two pills 24 to 48 hours apart. But shortly after Doe took the first pill she was taken to the hospital for a series of unscheduled tests.
During a deposition with ACLU attorney Brigitte Amiri, Lloyd was asked whether during this time he was considering using a medically unsound practice called "abortion reversal." Anti-abortion activists argue medical abortions can be reversed with this procedure even though there is no credible scientific evidence supporting this claim.
According to Vice News:
Amiri asked Lloyd why ORR officials would undertake such a hospital visit. Lloyd told her, "I'm not, I'm not exactly sure."




"Did you have conversations about whether the medication abortion could be reversed?" she asked.




"I may have," Lloyd said.




Amiri asked, "Who did you have those conversations with?"




Lloyd said, "Other transition staff, including attorneys."




"Why would ORR seek to try to reverse the abortion of an unaccompanied minor?"




"I don't know, I mean except to save the life of the baby," Lloyd replied.
In the end, Jane Doe was granted an abortion. But last month, the ACLU again sued on behalf of two more women in U.S. custody who said Trump administration officials denied them abortions. The ACLU won that case as well.
Read the full Vice News story here.