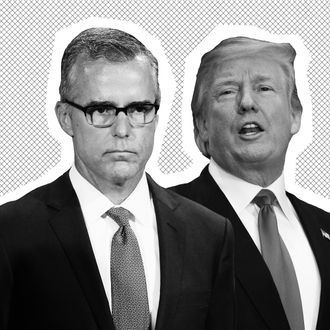 Andrew McCabe and Donald Trump.
U.S. president and middle-school bully Donald Trump reportedly had some harsh words for the wife of now-former deputy FBI director Andrew McCabe.
According to NBC, Trump was furious when he saw video of James Comey boarding a government-funded plane from Los Angeles to Washington, a day after he was fired as director of the FBI. When he called McCabe, then the acting director of the bureau, demanding to know why Comey had been allowed to fly on an FBI plane, McCabe reportedly told the president that although he had not been asked about the decision, he would have approved it.
Then, per NBC:
The president was silent for a moment and then turned on McCabe, suggesting he ask his wife how it feels to be a loser — an apparent reference to a failed campaign for state office in Virginia that McCabe's wife made in 2015.




McCabe replied, "OK, sir." Trump then hung up the phone.
Ouch. Still, though, this is certainly one of Trump's better attempts at conflict resolution.