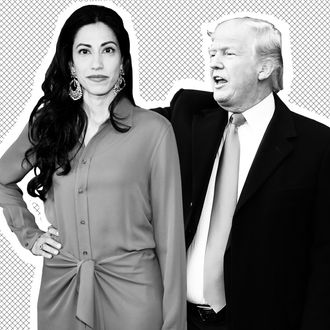 Huma Abedin, Donald Trump.
Photo: Getty Images
While many of us may have resolved to spend less time online in the New Year, the president remains as unable to log off Twitter as ever. And on Tuesday morning, he took to the platform to suggest that former Hillary Clinton aide Huma Abedin should face jail time.
"Crooked Hillary Clinton's top aid [sic], Huma Abedin, has been accused of disregarding basic security protocols. She put Classified Passwords into the hands of foreign agents. Remember sailors pictures on submarine?" he wrote. "Jail! Deep State Justice Dept must finally act? Also on Comey & others."
Abedin has been in the news since last week, when the State Department released her emails found by the FBI on estranged husband Anthony Weiner's laptop. The Washington Post points out that Trump seems to be tweeting about her specifically because of a report in the conservative outlet The Daily Caller; in it, they claim that Abedin forwarded State Department passwords to a personal Yahoo account.
A few hours later, the president moved on from Abedin to taking credit for … no commercial airplane travel deaths in 2017.