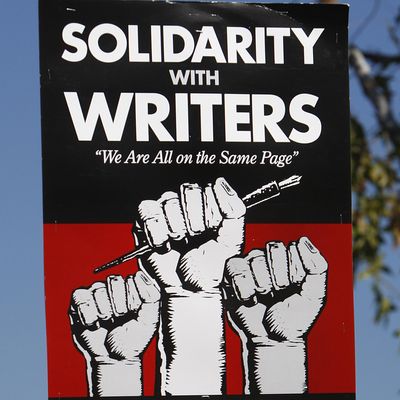 Photo: ROBYN BECK/AFP/Getty Images
In order for women and minorities to reach pay parity in Hollywood, they're going to have to know what type of compensation their peers are receiving. For example, recent meetings between actresses under the auspices of Time's Up have unearthed details about the vastly different paychecks brought home by Michelle Williams ($625,000) and Mark Wahlberg ($5 million) for similar work done on the film All The Money in the World. At that same meeting, Tracee Ellis Ross disclosed to fellow actresses that she gets paid "significantly less" than Anthony Anderson, her co-star in Black-ish.
In the continued pursuit of transparency, a Google spreadsheet has been created for TV professionals like writers, assistants, producers, and script coordinators to anonymously enter details about their salaries so people can see what their colleagues are making. There are columns devoted to criteria such as gender, whether or not a contributor is a person of color, network, job title, salary, and more, and while the data is a little dense for those not in the industry, it offers an interesting look for the viewer at the pay hierarchy behind the shows they mainline. For actual entertainment professionals, it could become a helpful tool at the negotiating table.