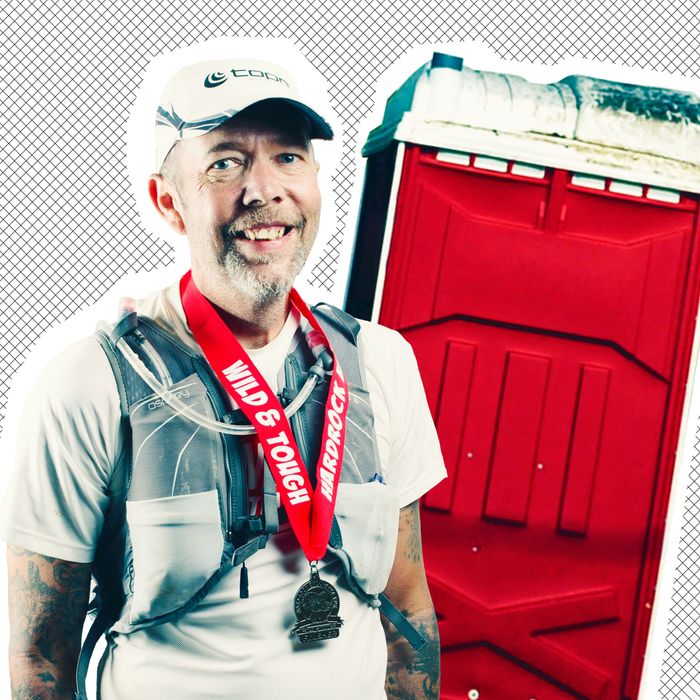 Kelly Agnew and friend.
Photo: Getty Images
For the past four years, a man named Kelly Agnew has won Across the Years, a multiday, fixed-time footrace in Arizona where people (willingly!) sign up to see how many miles they can run in 24, 48, or 72 hours, or six days. Agnew first won the 48-hour race in 2013, when he ran 201.5 miles in 41 hours, beating his runner-up by 55 miles, despite having stopped the race seven hours early. His crushing victory drew suspicion among race organizers, and in December 2017, officials discovered that Agnew had a stinky secret: He was cheating by hiding in a port-a-potty and recording laps he didn't take.
Derek Murphy, who runs the blog Marathon Investigation, spoke to Mike Melton, the timing official who was tasked with keeping an eye on Agnew during the race. According to Melton, after the 17th lap, Agnew crossed the timing mat, spent some time looking at the monitor nearby, and then went into the port-a-potty where he spent a full ten minutes. When he emerged, Melton says he saw him cross the timing mat again, thus registering a lap he didn't complete. And if you're wondering whether Melton might have gotten distracted or wandered away, don't! Here's what he told Murphy (in all caps):
IT'S IMPORTANT TO NOTE THAT I KEPT MY EYES ON HIM THE WHOLE TIME — I DID NOT LOOK AWAY OR GET DISTRACTED AT ALL DURING THE 10 MINUTES I WATCHED. ALSO, I THOUGHT IT WAS SIGNIFICANT THAT HE CLEARLY GLANCED DOWN AT HIS WATCH AS HE ENTERED THE PORTABLE TOILET — AS IF HE WAS MARKING THE TIME HE STEPPED IN. HE SPENT JUST OVER 7 MINUTES IN THE TOILET.
Race officials then confronted Agnew with the evidence and told him he would be disqualified. According to Murphy, Agnew "turned in his timing chip and left without much of an argument."
Agnew has also been retroactively disqualified from all his previous Across the Year races.
"It saddens us to see this take place at an event that is centered around camaraderie amongst runners and support of top performances. This type of cheating is not tolerated by our race or race organization," race officials wrote in a Facebook post earlier this week.
As for Agnew, he has presumably retreated to comfort of his Sadness port-a-potty, which is different than his Cheating port-a-potty.