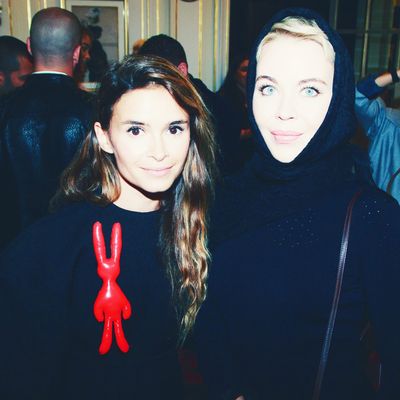 Miroslava Duma and Ulyana Sergeenko.
Photo: Victor Boyko/Getty Images
When Ulyana Sergeenko sent a note reading "to my n*ggas in Paris" to blogger Miroslava Duma, the backlash was swift. Sergeenko, who was forced to cancel her Paris Couture show in favor of a presentation the day after the note was shared on social media, has released a second apology today.
In her second apology, she recognized that her first attempt (where she said that she was trying to feel as cool as Kanye when she says the N word) was "rushed, self-centered, and could understandably be seen as insincere."
Sergeenko is not the only one issuing mea culpas. Shortly after the original note went viral, a clip of Duma using transphobic language in 2012 to talk about trans-model Andreja Pejic and blogger Bryanboy surfaced. In the clip, which Bryanboy posted on his Instagram, Duma spoke about the two wearing women's clothing saying, "Honestly, I dislike that. Because somewhere, on TV or in a magazine, a little boy could see it and that boy wouldn't understand it correctly, react correctly. I think a certain kind of censorship and refined culture is needed here."
Duma apologized on her Instagram, saying "the person I was six years ago is not who I am today."
The victims of her vitriol also spoke out. Yesterday, Bryanboy posted a lengthy response to Duma's comments, writing "Every day, a lot of people, especially young ones, get targeted, bullied and excluded because of their inability to conform to the way society wants them to be — the way they act, who they love and yes, even the way they chose to dress."
Pejic also posted a response to her Instagram, talking about how far the industry has come since she began modeling. "@miraduma 's hopes that "this trend fizzles out quickly" have not been realized. I am thankful I got to stick around!"