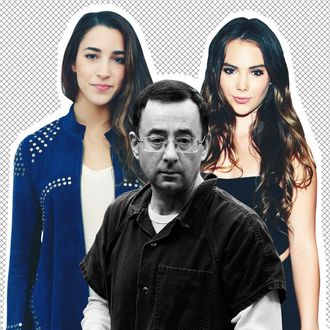 Aly Raisman, Larry Nassar, McKayla Maroney.
Photo: Getty Images
Three senior members of the USA Gymnastics Board of Directors have resigned amid the ongoing sexual-abuse scandal surrounding ex-USA Gymnastics doctor Larry Nassar.
Chairman Paul Parilla, vice-chairman Jay Binder, and treasurer Bitsy Kelley tendered their resignations on Sunday. In a statement, USA Gymnastics CEO Kerry Perry thanked the three executives for their work, adding: "We support their decisions to resign at this time. We believe this step will allow us to more effectively move forward in implementing change within our organization."
The resignations come after dozens of women delivered powerful victim impact statements at Larry Nassar's sentencing hearing last week. Nassar has been accused of sexual abuse by over 140 women and girls, over 100 of whom are expected to speak at his ongoing sentencing hearing in Lansing, Michigan.
Last week, accusers including Olympic gymnasts Jordyn Wieber, McKayla Maroney, and Aly Raisman spoke out against Nassar, and against USA Gymnastics, which they blamed for allowing Nassar to operate, unchecked, for so long.
Addressing Perry directly in her statement on Friday, Raisman said: "You've taken on an organization that I feel is rotting from the inside, and while this may not be what you thought you were getting into, you will be judged by how you deal with it."