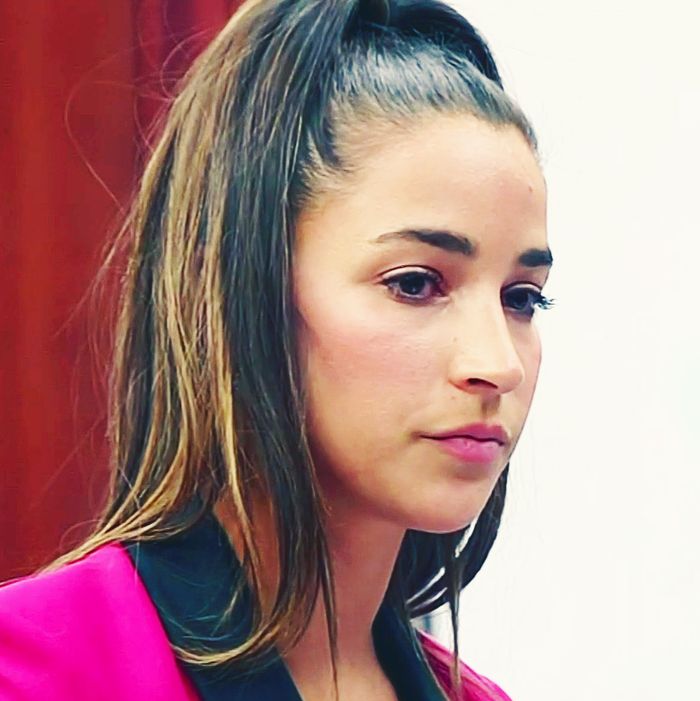 Aly Raisman.
Photo: Courtesy of CNN
Over 100 women are expected to speak in the sentencing hearing of former USA Gymnastics doctor Larry Nassar, which started on Tuesday, and is expected to continue well into next week.
Since September 2016, Nassar has been accused of sexual abuse by over 140 women and girls. In November, he pleaded guilty to seven counts of first-degree criminal sexual conduct, with each count carrying a possible prison sentence of between 25 and 40 years. This is in addition to the 60-year federal prison sentence he received in December for child pornography.
That the 54-year-old Nassar will die behind bars is a given. This week's hearing, therefore, has been less about the actual sentencing, than it has been about providing a platform for Nassar's victims to come forward and share their stories, and face their abuser.
Every day this week, dozens of women have lined up in the courtroom in Lansing, Michigan to give their statements. They've been angry and emotional, and according to NBC, after each statement, Judge Rosemarie Aquilina "consoled and applauded the accuser, heaping scorn on Nassar in the process."
"The next judge he faces will be God," she reportedly told one woman on Wednesday.
Here are some of the most powerful quotes from this week's hearing.
Kyle Stephens, January 16
Little girls don't stay little forever. They grow into strong women that return to destroy your world.
Stephens has said she was first molested by Nassar, a family friend, when she was only six. She is the only accuser who was not a patient of Nassar's. When she was 12, she finally told her parents about the doctors' behavior, but they didn't believe her.
Olivia Cowan, January 16
Today, I am a mother, a wife, a daughter, a friend that is struggling each day to find peace and joy in all the things that once made me happy.
Cowan, a former gymnast at MSU, said she suffers from PTSD, and is scared to send her two little girls to birthday parties or sleepovers. She also had sharp criticism for MSU and USA gymnastics, and said that if officials in the two organizations had taken the reports about Nassar seriously, "they would have saved me and all these other women standing before us today."
Maggie Nichols, January 17
USA Gymnastics and the U.S. Olympic committee did not provide a safe place for us to train … I've come to the realization now that my voice can be heard.
Nichols was the first person to report Nassar's sexual abuse to USA Gymnastics back in 2015. Her statement was read by her mother, Gina, who at one point turned to Kerry Perry, the CEO of USA Gymnastics and said "Shame on MSU, USAG, and the USOC."
Stephanie Robinson, January 17
I came to the stand as a victim, and I leave as a victor.
Robinson, who is only 17, initially wanted to remain anonymous. But on Wednesday, she walked up to the stand with her father, and faced her abuser, who she said she had once looked up to, and job shadowed for a day.
McKayla Maroney, January 18
As it turns out, much to my demise, Dr. Nassar was not a doctor, he in fact is, was, and forever shall be, a child molester, and a monster of a human being. End of story! He abused my trust, he abused my body, and he left scars on my psyche that may never go away.
Maroney had a prosecutor read her victim impact statement in court on Thursday, after USA Gymnastics finally said she would not be penalized for sharing her story. Earlier this week, a report revealed that Maroney faced a $100,000 fine if she talked about her experience with Nassar, because of a non-disclosure agreement she signed after settling a lawsuit with USA Gymnastics in 2016. Before USA Gymnastics announced that they would not fine Maroney for speaking out, model Chrissy Teigen and actress Kristen Bell offered to pay the $100,000.
Lindsey Lemke, January 18
You [Lou Anna Simon] say you aren't responsible for this. I wish you would come up to this podium and be half as brave as all of us have had to be the past year and a half. … To be brave enough to come up here and confidently tell us the reasons why you don't think that you are responsible.
Lemke, who was a team captain of the university's women's gymnastics team at Michigan State University, where Nassar worked, initially issued a statement through her mother on Tuesday. But on Thursday, she took the podium herself, and expressed her outrage at the various people who she says facilitated Nassar's abuse, including USA Gymnastics, MSU gymnastics, and MSU president Lou Anna Simon, who reportedly told a woman she was "too busy" to return to the courtroom after she attended on Wednesday.
Maureen Payne, January 18
As you deteriorate in prison, I want you to remember that you lost. As you eke out your days in prison, know that you will be forgotten and left alone.
In a statement read by her mother, Payne said she was scarred from the abuse, and that MSU ignored reports about Nassar. She described an incident where she began crying uncontrollably while she watched her son and husband try to recreate a play from a Michigan State basketball game, and couldn't stop imagining Dr. Nassar's face, and the smell of his sweat.
Jordyn Wieber, January 19
I thought that training for the Olympics would be hardest thing I would ever have to do. But the hardest thing I've ever had to do is process that I am a victim of Larry Nassar.
This was Wieber's first public statement about Nassar. She is the fourth member of the Fierce Five — the nickname for the 2012 U.S. women's Olympic gymnastics team — to accuse Nassar of sexually assaulting her.
Aly Reisman, January 19
Imagine feeling like you have no power and no voice. Well, you know what, Larry? I have both power and voice, and I am only beginning to just use them. All these brave women have power, and we will use our voices to make sure you get what you deserve: A life of suffering spent replaying the words delivered by this powerful army of survivors.
On Monday, Raisman tweeted that she would not be appearing in court because "it is too traumatic for me." But the gold-medalist appeared in court on Friday morning alongside her former teammate, Jordyn Wieber, to condemn Nassar, and USA Gymnastics for allowing him to continue treating young girls for so long.
Ashley Yost, January 19
That's something a 25-year-old shouldn't have to do — sleep in their parents bed 'cause they're afraid of a monster.
Yost, who was treated by Nassar for half of her life, said she remembered seeing gifts from his patients in the doctor's office, and that she now believes these were like trophies to him.