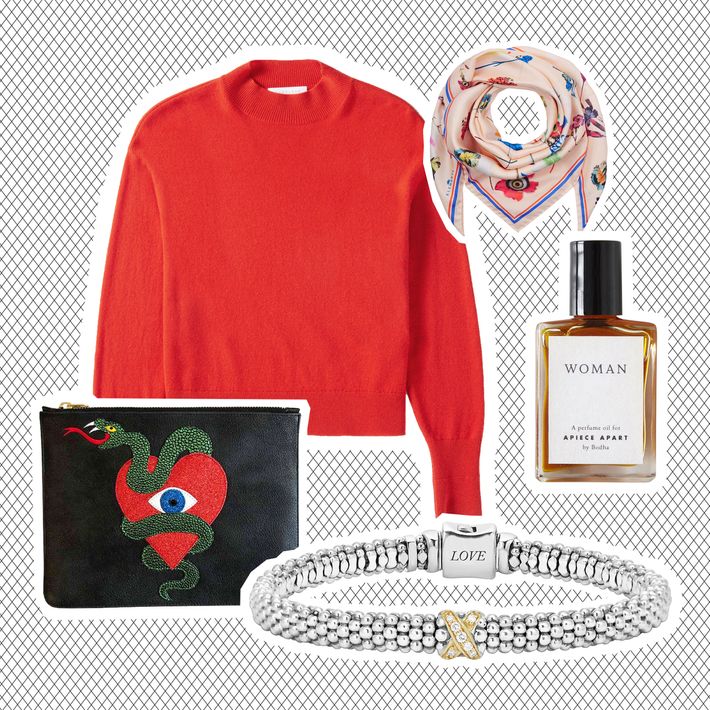 No matter your feelings about Valentine's Day, the holiday is, by all accounts, a perfectly good opportunity to browse for things you don't necessarily need, but are decidedly more indulgent. And while, yes, these tend to be marketed as gifts, there's no reason you shouldn't spoil yourself in celebration of self-love. Regardless of whether you're feeling generous or deserving, the ultimate Valentine's gift is, arguably, a beautiful piece of jewelry. And for the personal touch every really good gift requires, LAGOS offers custom engraving on select styles. Scroll down for our favorites, plus more ideas if you're looking for something classic, luxurious, trendy, or slightly alternative.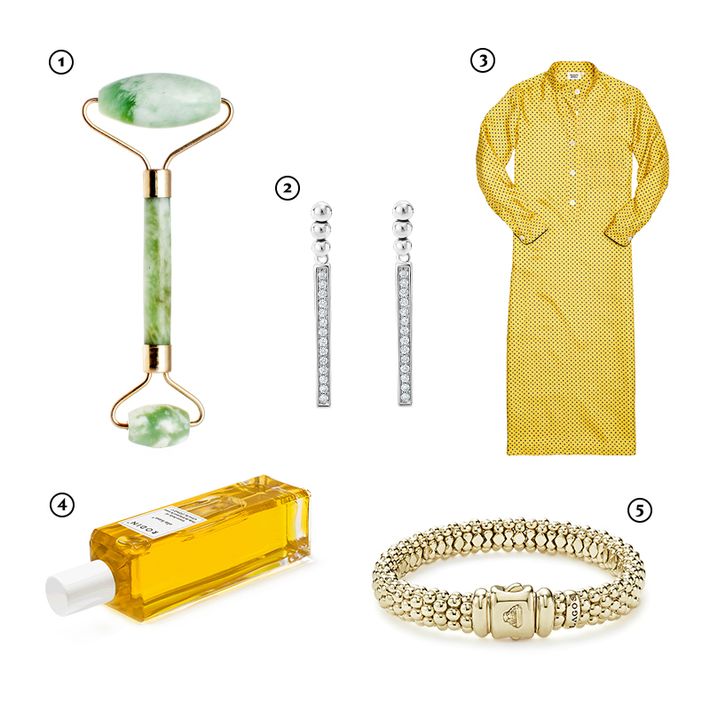 For a holiday that connotes pampering, feel free to go all out in the gifting department. A rich gold bracelet or sparkling diamond earrings are the height of glamour, while a silk sleep dress, jade face roller, or top-shelf body oil will make her at-home routine feel fabulously fancy.
1. Herbivore Jade Facial Roller, $25 at Herbivore; 2. LAGOS Caviar Spark Drop Earring, $2,500 at LAGOS; 3. Sleepy Jones Georgia Kaftan, $348 at Sleepy Jones; 4. RODIN olio lusso Jasmine & Neroli Body Oil, $130 at RODIN olio lusso; 5. LAGOS Caviar Gold Beaded Bracelet, $7,000 at LAGOS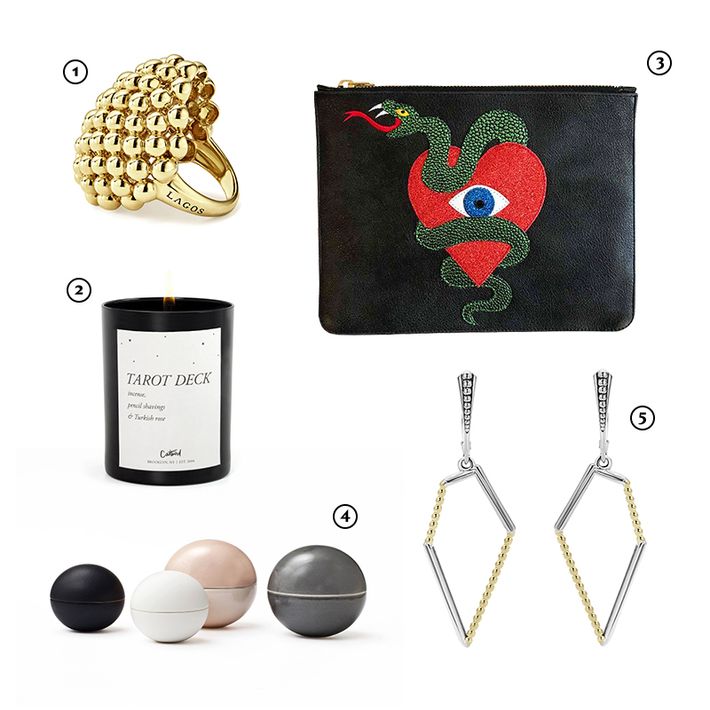 If she's more into rowdy live music and out-there art than peonies and emoji hearts, try something sexier than sweet. Hard metal, in the form of dagger-point geometric earrings or an oversized ring that's both pretty and tough, would do the trick. As would an occult-inspired clutch, black candle, or modern orb perfect for hiding a secret stash.
1. LAGOS Caviar Gold Gold Ring, $2,000 at LAGOS; 2. Catbird Tarot Deck Candle, $38 at Catbird; 3. Poppy Lissiman Serpent Heart Clutch, $89 at Poppy Lissiman; 4. Uh la la Ceramics Bonbonnière Glossy Series, details at Uh la la Ceramics; 5. LAGOS Signature Caviar Drop Earrings, $495 at LAGOS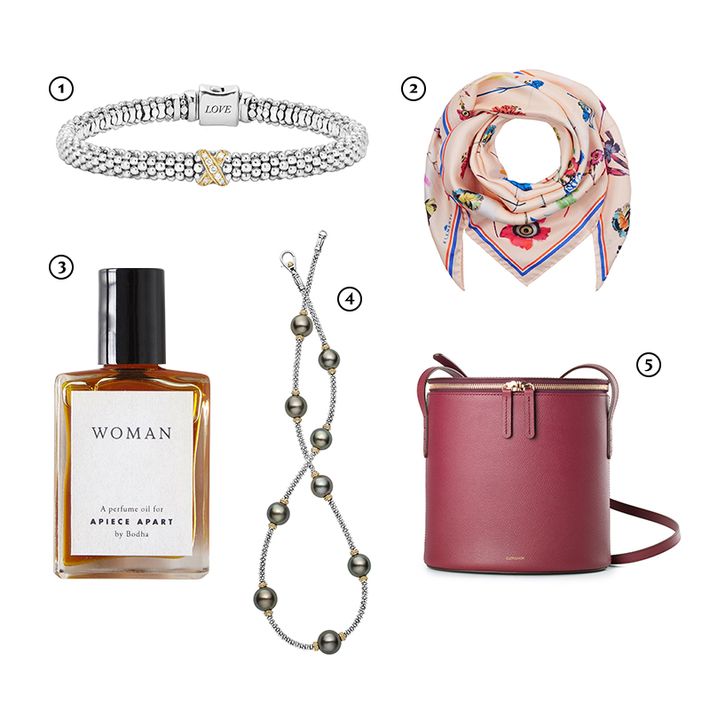 Just because she has timeless taste doesn't mean your gift should be boring. A simple but elegant fine bracelet is an outstanding everyday piece, while a black-pearl necklace is a more interesting upgrade to her beloved pearls. Also a step outside her usual: a scarf designed by fresh talent, a sleek red (!) bucket bag, and a conceptual fragrance.
1. LAGOS Diamond Luxe Single Station X Bracelet, $595 at LAGOS; 2. Klements Large Silk Scarf in Floral Explosion, $230.14 at Young British Designers; 3. Apiece Apart Woman Fragrance, $98 at Apiece Apart; 4. LAGOS Luna Pearl Necklace, $1,295 at LAGOS; 5. Cuero&Mør Rubi Medium Bucket, $595 at Cuero&Mør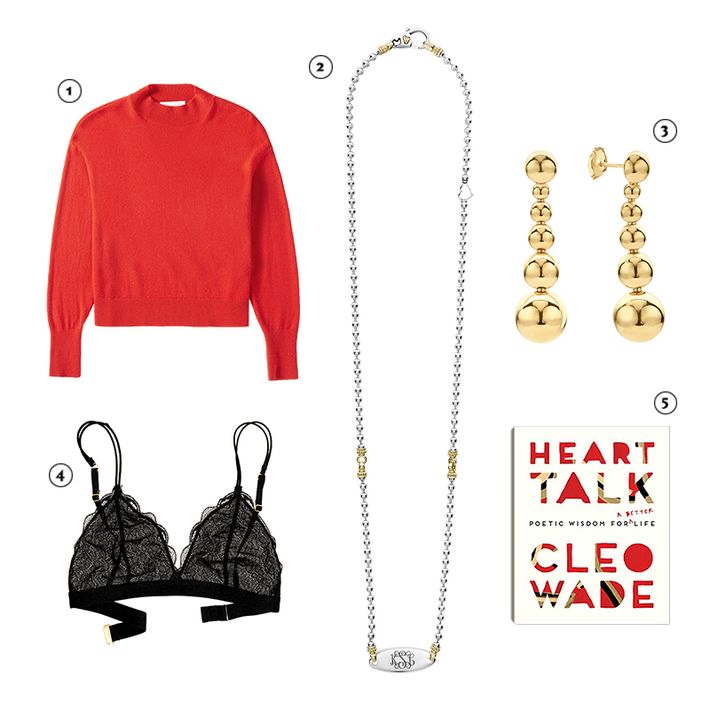 As her Instagram tribe is well aware, this woman is always up to the moment when it comes to fashion and culture trends. A popular-style statement earring will please her, as will a monogram pendant made for layering (another cool-girl styling trick du jour). More millennial bait: a lacy bralette, self-care bible, and bold, modern-cut cashmere.
1. Everlane The Cashmere Crop Mockneck, $100 at Everlane; 2. LAGOS Beloved Caviar Necklace, $695 at LAGOS; 3. LAGOS Caviar Gold Gold Drop Earrings, $1,750 at LAGOS; 4. Madewell Lace Liana Triangle Bralette, $32 at Madewell; 5. Heart Talk: Poetic Wisdom for a Better Life by Cleo Wade, $23.99 at Amazon
This is paid content produced for an advertiser by New York Brand Studio. The editorial staff of The Cut did not play a role in its creation.