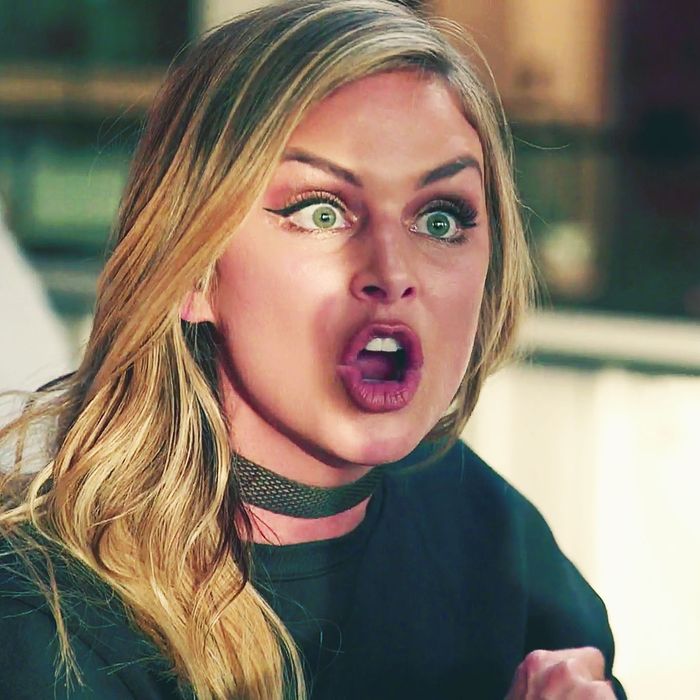 When you're mad about pasta!!!
Photo: Courtesy of Bravo
It is with great shame that I must report that I haven't been keeping up with Vanderpump Rules — the show about a sexy unique restaurant and its waitstaff's sexy, less unique problems — this season. And yet, I find myself unable to look away from this mysterious stand-alone clip from Monday night's episode posted by BuzzFeed's Steven Perlberg. It's passionate, it's emotional, it's rife with tumultuous conflict about … pasta.
It stars on-again-off-again friends Lala Kent — the human embodiment of a Forever 21 crop top — and James Kennedy — a professional tantrum-thrower/DJ. It contains the single angriest outburst about carbohydrates since I tried the Atkins diet 15 years ago. And it is mesmerizing.
It does leave some questions to be answered, mainly, what kind of pasta are we talking here? Linguine? Tagliatelle? Some little orecchiette with the sauce all nestled up in there? And some have theorized that they're not talking about pasta at all but something else entirely (cocaine). Who can say! Anyway, once you've exhausted yourself on this clip, may I suggest revisiting Lala talking about how much she loves Ayn Rand?