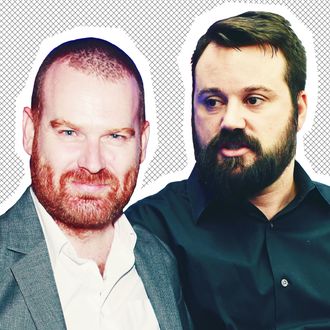 Andrew Creighton and Mike Germano.
Photo: Getty Images
Vice Media's president Andrew Creighton and chief digital officer Mike Germano are on leave after they were accused of sexual misconduct in a recent New York Times story about the culture of sexual harassment at their company.
In a memo sent to employees Tuesday morning, obtained by the Cut, Vice's COO/CFO Sarah Broderick announced that Andrew Creighton will remain on leave while a special committee of Vice board members review a 2016 settlement the company reached with a former employee, who said she felt pressured by Creighton "to submit to advances he made during a series of work meetings between 2013-2015."
Broderick also announced that Mike Germano will be on leave while an external investigator looks into the claims against him. According to the Times report, two women described incidents with Germano, who became Vice's CDO after the company acquired his digital ad agency, Carrot Creative, in 2013. One woman said he told her at a Carrot holiday party in 2012 that he didn't want to hire her because he wanted to have sex with her, and another said he pulled her onto his lap during a work event at a bar in 2014.
A November report by the Daily Beast described Vice as having a "toxic" company culture for women, and reported that employees at were forced to sign a "Non-Traditional Work Agreement" in which they essentially agreed not to be offended by anything that happened there. Three employees were later fired as a result of the report.