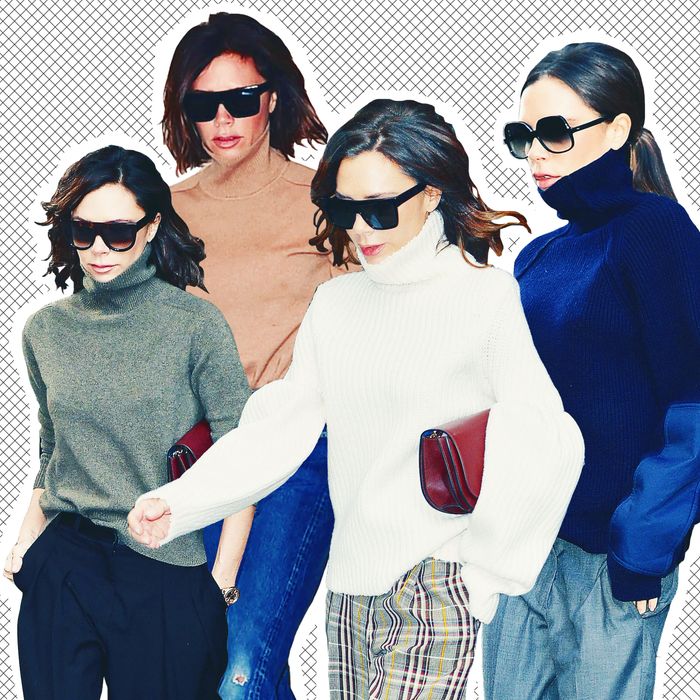 Photo: Getty Images; Splash
Let Victoria Beckham be your cold weather style icon.
Here's why: The fashion designer and former Spice Girl knows what you want — what you really, really want — which is to cocoon yourself in an enormous turtleneck sweater and burrow your face in its fluffy collar.
For years, Beckham has been walking out of various apartment buildings, hotels, airports, and cars with one hand in her pocket and the other lifting up the neck of her sweater to hide her face. For her, it's a convenient shield from the paparazzi. But for the rest of us, it's an easy, stylish way to cut yourself off from the rest of the world.
It's a look that says: Please don't talk to me when it's single-digit temperatures. You can pair it with sunglasses, baggy wool pants, and mild social anxiety. Or a strong case of seasonal affective disorder. It's great for polar vortexes, attending bad parties, and working from home. It is not, however, advisable for making small talk on a first date, or for public speaking of any kind.
Other reasons to try this look: (1) It's a built-in neck brace, perfect for taking a nap standing up. (2) It gives you instant cheekbones. (3) It protects you from winter germs. And last, but certainly not least, it makes you look like Victoria Beckham — a woman of very few words but very good taste.
Below, ten inspiring ways to hide yourself when you step outside.