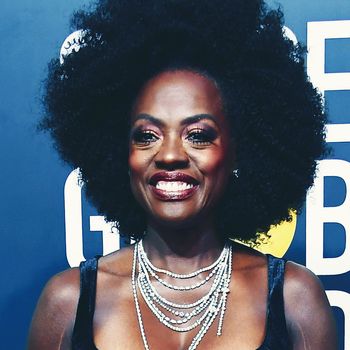 Viola Davis at the 2018 Golden Globes.
Photo: Getty Images
Golden Globe–winner Viola Davis arrived at this year's awards ceremony with sage advice, a black dress, and the most beautiful Afro to hit the Golden Globes red carpet — this year, or possibly ever. The actress initially showed off the look on Twitter while she showed off a fresh manicure that featured "Seeing Stars," a new nude Essie nail polish for black women.
This isn't the first time Davis has worn a natural hairstyle on the red carpet. She wore a twa, or a "teeny weeny afro" at the 2015 Oscars. She did the same at the Oscars ceremony three years before as well.
While she's not up for an award this year, she's a clear winner in another category: Being Viola Davis and having really, really great hair.