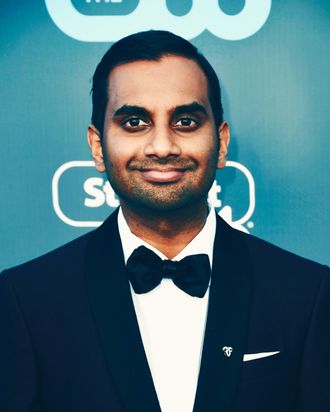 Aziz Ansari.
Photo: Frazer Harrison/Getty Images
On Sunday, the website Babe.net published a story called "I went on a date with Aziz Ansari. It turned into the worst night of my life." In it, a 23-year-old Brooklyn photographer describes an evening she spent with the Master of None star back in September, which she says ended with Ansari repeatedly pressuring her to have sex. The piece was met with mixed reactions: some criticized the reporting, others applauded the source for coming forward. Everyone, however, had one common question: What is Babe.net? Here's what we've figured out so far.
It's a women's news and lifestyle site.
Perhaps the best way to understand Babe is through their tagline: "Babe is for girls who don't give a fuck." According to their "About" page, the site "is into good news reporting, trash trends, personal stories, industry-leading analysis of fuckboys and the pettiest celebrity drama."
Babe divides their news reporting into sections like "news," "lust," "IRL," and "pop" and their headlines are often conversational and/or expletive-filled, like this month's "Let's pause Camila Cabello's new album and look back at her racist past, OK?" or "Do you want to read my weirdest, grossest sex stories ever? Fuck it, here they are."
It's a year old.
Babe.net started in May 2016, as an "experiment." It is a spinoff of the Tab, a news site that was founded by Cambridge University students in 2009, and whose content comes largely from student reporters at universities across the U.S. and U.K. It was founded by Eleni Mitzali, Amanda Ross, and other Tab editors, and its headquarters are at Tab Media's U.S. offices in Brooklyn.
Babe targets a young readership.
As managing editor Eleni Mitzali told Bold.global in August, Babe's target audience is women between the ages of 18 and 24, a demographic which Mizali says makes up over half of their readership, as well as most of their staff. According to Mashable, Babe's oldest editorial staffer is 25.
And it's already quite popular.
Babe already has over a million followers on Facebook. Mitzali also told Bold that is averaging 3 to 5 million readers a month.
Rupert Murdoch is one of their biggest investors.
In September 2017, conservative media mogul Rupert Murdoch's company News Corp. invested £4.6 million ($6.3 million) in Babe's parent company, Tab, making it a minority stakeholder. Emma Tucker, the deputy director of the Times of London, has joined Tab's board of directors.
So how did they get the Aziz Ansari story?
As Amanda Ross told the website Mashable in an email: "We heard some things about what happened to her and then did a lot of asking around until we got to the source. For a few days we made ourselves crazy over every detail of this story. Katie Way, the writer, did about a half-dozen interviews all over NYC. We all spent our Saturday on laptops fact-checking, redrafting, discussing the story with our lawyer verifying texts, trying to get a statement from his people and then finally publishing at about 7pm."
As of Monday afternoon, Mitzali said the Ansari story had been read over 2 million times.
*Correction: a previous version of this article said that Babe.net has 4m followers on Twitter. It has just over 4k.