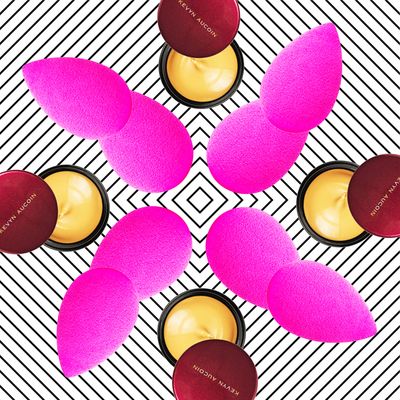 It's Dermstore sale time! Now until January 22 you can take 20 percent off of your beauty haul when you enter "WINTER" at checkout. What to buy? Scroll down for seven Cut-endorsed options.
The Kardashian-Approved Concealer
Kevyn Aucoin's little pigment pot is a multitasking workhorse. A tiny dab covers even monster zits, and when mixed with moisturizer, the pigment functions as a radiant foundation. Kim Kardashian West uses it to mask dark undereye circles, while Kylie Jenner prefers the foundation trick. Say what you will about the Kardashians, but the women know good makeup.
Sale Price: $38
The Cleanser You Need Right Now
You should know by now that a good cleanser is never drying (even if your skin is naturally oily). If you're not sure which one to buy, Juice Beauty's organic Cleansing Milk is a perfect starting point. It's gentle enough to use over your eyes, yet tough enough to dissolve makeup. Before Gwyneth Paltrow developed her own cleanser, she used to wax poetic about this one.
Sale Price: $20
The Pads That Lighten Acne Scars
After you've figured out how to tackle your acne situation, you might want to erase the resulting scars as well. For that you'll need an exfoliant, and First Aid Beauty's Radiance Pads are made with two of them: glycolic and lactic acid. They work in tandem to smooth your skin's texture and tone. And because the pads are alcohol-free and outfitted with a large amount of aloe, they're safe for sensitive skin, too.
Sale Price: $24
If You Want to Air-Dry Your Hair
The microfibers in Aquis's hair turban absorb more water than regular towels, so your hair dries more quickly and with less frizz. And you won't have to worry about it falling off your head as you wait for your hair to dry: a hook and button help keep it in place.
Sale Price: $24
If You Want to You Wake Up to Great Skin
Choose a skin-care product that pulls its weight while you sleep. Dr. Brandt's Glow serum is equipped with a high concentration of retinol — two percent, in fact — so that it quells tiny lines and uneven skin tone very effectively. As is the case with any retinol, you'll need to wait six to eight weeks to notice results. That's not bad considering that all you have to do is smooth it on your face and go to bed.
Sale Price: $69
The Hair Mask That's Like a Vacation
A lot of masks smooth and soften dry, rough hair, but few of them smell as delightful as this one. The fragrance — reminiscent of white flowers — is like a tropical retreat. The scent stays on your hair for days, and the butters and oils in the mask keep your hair soft and shiny for even longer.
Sale Price: $26
The Sponge That Every Makeup Artist Loves
You've seen this sponge in every YouTube tutorial and in at least ten Keeping Up With the Kardashians episodes, so what are you waiting for? It deposits makeup in such a flawless, even manner that practically anyone can fake the work of a pro.
Sale Price: $16
If you buy something through our links, New York may earn an affiliate commission.