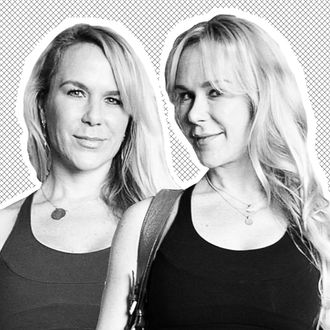 Anastasia and Alexandria Duval.
On May 29, 2016, two women were pulled from the wreckage of an SUV at the bottom of a 200-foot cliff in Maui, Hawaii. The driver, 37-year-old Alexandria Duval, suffered minor injuries. The passenger, her twin sister Anastasia Duval, was found dead.
This week, Alexandria stands trial for second-degree murder over the death of her sister — but it's hardly been a straightforward path to this point. Since her initial arrest, she was released and rearrested; it was also revealed that she and her sister had a strange history, filled with changed names, previous arrests, drinking problems, and yoga studios opened and abruptly closed.
Here, everything to know about the case.
The Alleged Crime
Witnesses told the Associated Press that they saw the Ford Explorer SUV "accelerate forward and then take a sharp left over the cliff" on the day of the accident. Crucially, witness accounts also involve the twins "screaming and arguing with each other" and claims that the "passenger was pulling at the driver's hair and the steering wheel" before the crash.
Per KHON2, investigators found "no attempts of braking based on witness accounts, roadway debris at the scene, and the vehicle's airbag control module."
Alexandria was arrested on Friday, June 3, 2016 at the Seaside Hotel in Maui, charged with second-degree murder, and held without bail.
Alexandria's Initial Release and Rearrest
On June 8, 2016 Alexandria was released and charges were dropped, with a judge citing a lack of evidence against her. But there was still a chance for prosecutors to bring the case to a grand jury.
And that's precisely what happened. A grand jury indicted her in October and she was rearrested on November 11, 2016 in Albany, New York, extradited to Hawaii, and held on a $3 million bail. She was eventually released on a $200,000 cash bail in February 2017.
The Twins' Background
The twins were born in Utica, NY, in 1978 as Alison (later Alexandria) and Ann (later Anastasia) Dadow; their mother tragically died when they were just five years old. Their adulthood brought them across the country, to a flourishing career in the yoga industry and into dust-ups with the law.
Their Time in Florida
From 2008 through 2014, Alison and Ann ran their Twin Power Yoga studios in Palm Beach County,* Florida, where they were known for being highly visible, magnetic local personalities — even driving matching Porsches. As a result, they were approached for a potential reality show but, per their spiritual adviser Leslie McMichael (she met the twins at a Kabbalah Center), that's precisely when everything started to go wrong for the pair. She told the Maui News that the producers pushed them into renting a more expensive space for a new studio in 2011 — and when the show didn't end up happening, they couldn't afford it and were plunged into debt.
She also called Alison/Alexandria the one with a "big, dominant personality" while Ann/Anastasia was "the sweetest, kindest, most-level headed person you would ever meet." Local tabloid site GossipExtra was less kind, continually referring to the pair as the "terrible twins of yoga."
In 2014, they abruptly closed their studios, leaving employees without pay and customers who had already paid for their memberships angry and ripped off.
Their Time in Utah
That same year, they took off to Park City, Utah, and changed their names for the purposes of writing a book. Now Alexandria and Anastasia, they also got back into the yoga business, opening a local studio.
But leaving Florida hardly solved their problems: they were approximately $150,000 in debt each and forced to file for bankruptcy. Their time in Utah was also marred by disorderly and drunken conduct — per the Maui News, they were kicked out of a restaurant in January 2014 for drinking too much and were involved in another crash in which "officers said the twins fought with each other and with police who arrived after their car slid into a ditch. Hair-pulling also was involved."
Their Time in Hawaii
In December 2015, they landed in Hawaii "on a religious quest," according to the Maui News. It didn't seem to be going particularly well: on Christmas Eve, they were arrested for disorderly conduct and terroristic threatening.
By May of 2016, Alexandria and Anastasia were living with their respective boyfriends — Lonnie Dickerson and Federico Bailey — in a spacious rental in Maui. Dickerson was the registered owner of the SUV involved in the crash.
The Day of the Crash
Bailey told the Maui News that he and Anastasia were supposed to be on a couples camping trip together that long weekend — but Alexandria came too, and that sparked a fight between the sisters. He says the twins left at some point without him and when they came back, they were in good spirits. But Bailey was upset upon realizing that they had purchased alcohol — various accounts from those who knew them over the years indicate that they struggled heavily with drinking issues. ("They were great people when they were sober, but the minute they [started] drinking they were like Jekyll and Hyde," as Anastasia's ex told the Palm Beach Post.) When he "walked away from them to compose himself," Bailey found that they had taken off again — and that's when the crash happened.
What Happens Next
In late November, Alexandria's attorney, Birney Bervar, filed a motion to have the case dismissed, arguing that the grand jury was misled by prosecutors. (Per an earlier article in People, Bervar appears to be going with a defense of "the crash was a tragic accident that has left his client heartbroken.") When that motion was denied, she waived her right to a jury trial, opting instead to be tried by a judge. Alexandria's trial begins on January 29 and, if convicted, she faces life in prison.
*The original version of this article stated that their yoga studios were in Palm Beach, Florida.