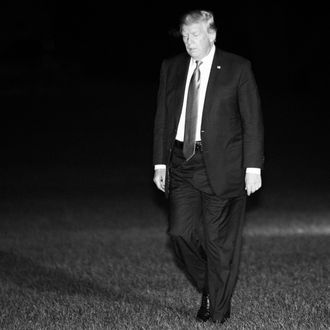 What is he thinking?
Photo: Pool/Getty Images
During Tuesday's White House press briefing, Dr. Ronny Jackson — the physician to the president, who also served under Obama — took the mic to deliver the results from Donald Trump's physical. There were some surprises — for starters, it marked a rare occasion when a question about prostate health graced those hallowed halls. It also brought the news that the president's "overall health is excellent."
Trump specifically asked the doctor for a cognitive screening, on which he did "exceedingly well" — constant belligerent tweets and all.
Other insights? Trump is said to be six feet, three inches tall and 239 pounds — the latter claim being one that many have expressed disbelief about, given other photos we've seen of the president.
Dr. Jackson did say that Trump is going to work to lose ten to 15 pounds in the coming year and that "he's more enthusiastic about the diet part than the exercise part." When pressed, he admitted that "on a day-to-day basis, [Trump] doesn't have a dedicated, defined exercise program" — which of course he doesn't, since he believes that exercise uses up the body's finite amount of energy. Never forget!
And finally, when questioned about what we were all thinking — how someone who disdains exercise and loves eating McDonald's can be in such great health — Dr. Jackson replied, "He has incredibly good genes. And that's just the way God made him."