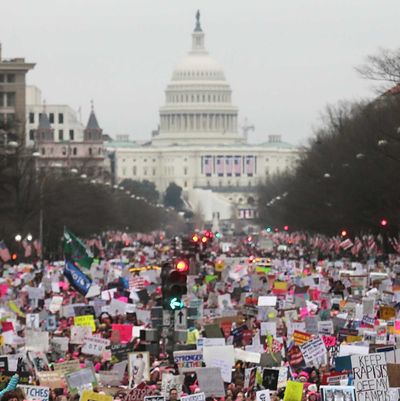 Women's March on Washington, 2017.
Photo: Mario Tama/Getty Images
Women's March organizers in Knoxville, Tennessee, have increased security and modified their route after white nationalists announced they plan to protest Sunday's event, USA Today reports.
This weekend, more than 250 communities around the country are expected to participate in the second annual Women's March in honor of last year's demonstration in Washington.
In response, Matthew Heimbach, founder of the Traditionalist Worker Party — which seeks a whites-only nation state — said his group plans to protest the event to "take a stand" against abortion rights.
But Women's March organizers in Knoxville say they are undeterred, and are working closely with the police to make sure all participants are safe.
"Our purpose is mainly a celebration," Kimberly Peterson, spokesperson for the Women's March Coalition of East Tennessee told USA Today. "It's a positive, upbeat event. Our participants have certain values, and even in a tough presidential year, there were a lot of successes. That's been the theme of our event — to celebrate successes."