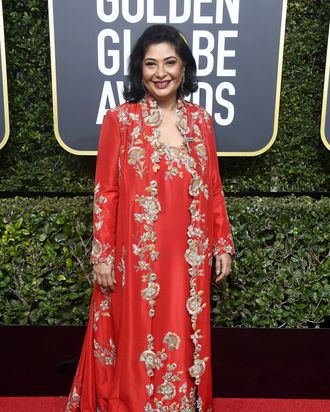 Meher Tatna.
Photo: Getty Images
In case you missed it, everyone who attended the 75th Annual Golden Globe awards on Sunday night wore black in solidarity with Time's Up, a Hollywood women's initiative to fight sexual harassment in the entertainment industry and beyond.
Well, almost everyone. Meher Tatna, the president of the Hollywood Foreign Press Association (which hosts the ceremony), wore a red gown and overcoat on the carpet. She also wore the look while making a speech during the televised ceremony to announce two new HFPA grants for $1 million each to the International Consortium of Investigative Journalists and the Committee to Protect Journalists.
Before you jump to criticize her outfit choice, there was a reason behind it. She didn't just "miss the memo," as some are assuming.
Tatna, who is Indian, told "Entertainment Tonight" on the red carpet that she wore the color red because it's a "cultural thing." She added: "When you have a celebration, you don't wear black." Plus, Tatna had her dress made for her weeks ago.
Many actors and actresses were reportedly scrambling for a new black look in the weeks leading up to the Globes, but not everyone has the luxury of a stylist who can get them a new one, and/or a big brand backing them with numerous options.
"I am totally in solidarity with them," Tatna told Vanity Fair ahead of the ceremony of actresses wearing black.
This post has been updated to include Tatna's Entertainment Tonight quote.