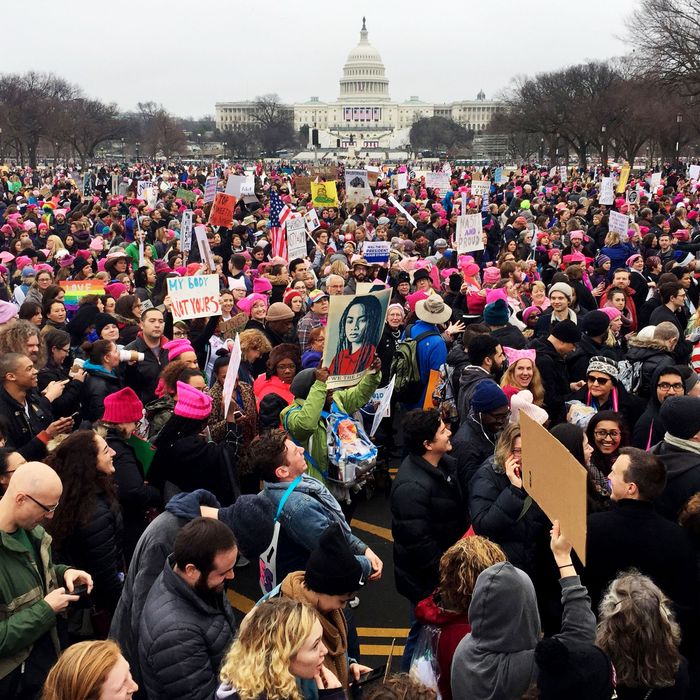 The Women's March in Washington, D.C.
Photo: ANDREW CABALLERO-REYNOLDS/AFP/Getty Images
This weekend marks one year since millions of people around the world took to the streets to protest the inauguration of Donald Trump as president. Last year, we joined them. We marched because we were angry, because we were shocked, because we wanted to defend our rights. In many ways, it feels like we've been marching ever since.
A week after the Women's March, marchers showed up at airports to protest President Trump's travel ban. In March, the Cut went on strike to stand for A Day Without Women. In April, marchers demanded that Trump release his tax returns, and also showed up for science, and for our planet. In July, we marched for Trump's impeachment, and in August, as she marched alongside others to protest a white supremacist rally in Charlottesville, Heather Heyer was killed. A few weeks later, we marched to protest the president's termination of the DACA program.
These protests were certainly not perfect, and marches alone don't engender change unless they are accompanied by continued political action. But there is something undeniably powerful about people coming together and reclaiming their physical and political space. To march is to assert your humanity, to shove it in the face of those who would try to dehumanize you. And so we will attend the 2018 Women's March in New York on Saturday.
Yes, a lot has changed over the past year. Our collective sense of urgency has transformed into action that's not as unified, but just as persistent. And there is still just as much to fight for as there was a year ago.
Over the last 12 months, there have been plenty of moments when it was easier to be cynical than determined, when the antics of this administration felt like a joke, and engaging with them felt almost as absurd. On Saturday we will be reminded of what's at stake.
To protest is a privilege (one not always afforded to everyone). So, this weekend we'll exercise ours by marching again; we'll lace up our shoes, and grab our signs, and we'll take to the streets. We hope to see you out there.