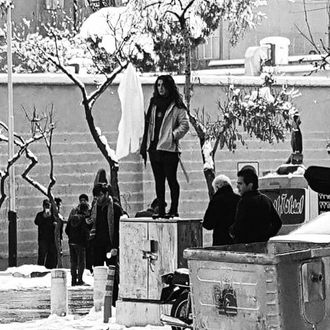 A protester in Tehran on Monday.
Photo: Courtesy of Twitter/NegarMortazavi
Back in December, a 31-year-old Iranian woman named Vida Movahed was arrested after she climbed on top of a telephone utility box in the middle of Tehran, removed her head scarf, and began waving it on a stick to protest the country's strict hijab laws. Her arrest inspired a wave of anti-government protests, and on Monday, pictures began to circulate on social media of other women waving their scarves in solidarity.
According to the Los Angeles Times, at least one of these women and a person photographing her have been arrested.
Since the Islamic Revolution in 1979, women in Iran have been required to cover their heads and wear long, loose clothes in public, or risk being fined or arrested. But more and more women are pushing back against the restrictive law. Back in May, activist Masih Alinejad launched the #WhiteWednesday movement, encouraging women to post pictures of themselves wearing white on Wednesdays to protest the country's strict dress codes.
Movahed was arrested during a White Wednesday protest on December 27. Initially, her identity was unknown, and a social-media campaign called #Where_Is_She was launched to determine her whereabouts. Nasrin Sotoudeh, one of Iran's leading human-rights lawyers, later confirmed Movahed's identity, and on Sunday she announced in a Facebook post that Movahed had been released and was back home.
"The message of these citizens is clear," Sotoudeh said in response to the protests. "We, the women and girls, are fed up with this compulsory hijab. We want to manage our clothing and what to wear."