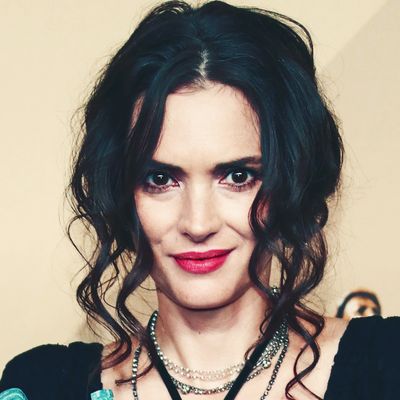 Winona Ryder, who has great hair.
Photo: Getty Images
The most deserved winner of a Golden Globe this year is Winona Ryder, who is technically not nominated but receives an honorary, unofficial award for her role in the emotional Roman Coppola–directed L'Oréal Paris commercial that compares the actress's career to damaged hair. Some were angered, others were teary, but we all were left thinking, Holy shit, her hair looks so good.
But let's take a step back — forget Ryder is the woman in the commercial, as her identity is concealed up until the emotional reveal at the end. All you see is her black gown and Über-hydrated, dark brown tresses, which bounce when she slouches into an armchair and walks around the room practicing lines for an upcoming stage appearance. When it's finally performance time, a stagehand tells the faceless woman, "We're ready for you," Ryder's identity is revealed, and the commercial reads: "Everyone loves a comeback. Damaged hair deserves one too."
If you missed it, you can — and should — watch it here:
Ryder recently became the new face of L'Oréal Paris and was tapped to revive the Elvive line, which is for heat-damaged hair. Sean Bryan, co-chief creative officer of McCann, New York, told Ad Age that L'Oréal tapped Ryder because they thought she'd be appropriate for their "Comeback" line.
"We thought it would be great to celebrate timely comeback stories about women who are back on top of the world," Bryan told Ad Age. "And there was nobody better to start with than Winona Ryder."
The Stranger Things star was nominated for a Golden Globe last year for Best Actress in a TV series for her role, 23 years after she received a Golden Globe for Best Supporting Actress for The Age of Innocence.