The Oprah idea was, admittedly, imperfect. The antitoxin for one rich celebrity president is not likely to be a different rich celebrity president (albeit an infinitely smarter and more humane one). But the alacrity with which America took to the possibility that the former talk-show host and secular deity might be the one to vanquish Donald Trump was not wholly at odds with an actual national phenomenon. Over the past terrible, horrible, no-good, very-bad year, an unprecedented number of women have been motivated to dive into politics for the first time, many with the hope of defeating or succeeding men who've held the bulk of America's political power for centuries.
To date, 390 women are planning to run for the House of Representatives, a figure that's higher than at any point in American history. Twenty-two of them are non-incumbent black women — for scale, there are only 18 black women in the House right now. Meanwhile, 49 women are likely to be running for the Senate, more than 68 percent higher than the number who'd announced at the same point in 2014.
To name-check just a fraction of these newly hatched politicians, there's Vietnam-born Mai Khanh Tran, a California pediatrician and two-time cancer survivor vying for a House seat that's been held by Republican Ed Royce for 13 terms. There's military wife Tatiana Matta, who's one of two Democrats trying to oust House Republican Majority Leader Kevin McCarthy, and Mikie Sherrill, a former Navy pilot and federal prosecutor, who hopes to show New Jersey representative Rodney Frelinghuysen the door. (Twenty-three-year congressional veteran Frelinghuysen is descended from a family once ranked the seventh-most-powerful American political dynasty: His father was a congressman, his great-great-grandfather and great-great-great-uncle were senators; his great-great-great-great-grandfather — also a senator — helped to frame New Jersey's Constitution.)
And Democratic women aren't leaving the men of their own party undisturbed. In Minnesota, former FBI analyst Leah Phifer is challenging incumbent Democratic representative Rick Nolan; Sameena Mustafa, a tenant advocate and founder of the comedy troupe Simmer Brown, is primarying Democrat Mike Quigley in Illinois's Fifth District. And Chelsea Manning, former Army intelligence analyst and whistle-blower, announced recently that she's going after Ben Cardin, the 74-year-old who has held one of Maryland's Senate seats for 11 years and served in the House for 20 years before that.
While the vision of women storming the ramparts of government is radical from one vantage point, from others it's as American as the idea of representative democracy laid out by our forefathers (like Great-great-great-great-grandpa Frelinghuysen!). "Representative citizens coming from all parts of the nation, cobblers and farmers — that was what was intended by the founders," says Marie Newman, a former small-business owner and anti-bullying advocate who is challenging Illinois Democrat Dan Lipinski in a primary. "You come to the House for a while and bring your ideas and then you probably go back to your life." Not only has her opponent been in office for 13 years, Newman notes, but his father held the same seat for 20 years before that. "It's a family that has reigned supreme, like a monarchy, for over 30 years," she says.
In the wake of Donald Trump's defeat of Hillary Clinton, Newman and the rest of this girl gang are eyeing the aging cast of men (and a few women) who've hogged the political stage forever and trying to replace them. Replacement. It's an alluring concept, striking fear in the hearts of the guys who've been running the place — recall that the white supremacists in Charlottesville this summer chanted "You will not replace us" — and stirring hope in the rest of us that a redistribution of power might be possible.
That fantasy of restorative justice is particularly resonant amid still-cascading #metoo revelations of sexual abuses by those who've had too much power, in too many industries, for too long. "Let's make a full-blown trend out of replacing predatory men with women who were long overdue to hold their jobs in the first place," crowed one writer in Vogue. "It's really the least the patriarchy can do." Meanwhile, Marie Claire — like Vogue, not exactly the radical women's collective — ran a giddy list of women who should take over for bad dudes, imaginatively swapping Ava DuVernay for Roy Price at Amazon, Joy Reid for Mark Halperin at MSNBC. Even Conan O'Brien joked on Twitter that he is "ready for the all-female reboot of America."
Of course, in most fields, altering power ratios is neither swift nor easy. Even if men are pushed from their lofty perches, those waiting to take their places, the ones who've accrued seniority, expertise, and connections, are mostly men. Women who've been driven out or self-exiled from their chosen professions often cannot simply reenter them — as partners or managers or even mid-level employees.
This is one of the relative virtues of politics: It can be swiftly responsive to change. You can, in theory, run for local or state or even federal office, even if you've never been as much as a student-council secretary. If you're a preschool teacher or a law professor or a sanitation worker, there will be substantial obstacles, yes — weaker networks, fund-raising disadvantages; party machinery, institutional obstruction, and identity bias to push past. Yes. But you can run. And if you win, whether the office is small or large, you might be able to shake things up. The people who control state and local legislatures often determine who in their communities gets to vote easily, who has access to health care or to legal sanctuary; local governing bodies around the country have in recent years passed legislation for paid leave and paid sick days and higher minimum wages.
It's certainly true that the policies that are enacted depend on which women run and win — the country is full of Sarah Palins, not just Elizabeth Warrens. According to the Rutgers Center for American Women and Politics, however, so far it's the Warrens who are getting into the game. Of the 49 women currently planning to run for the Senate (including incumbents, challengers, and those running for open spots), 31 are Democrats. Well over half of the 79 women slated to campaign for governor are Dems, as are 80 percent of the women setting their sights on the House.
This past fall's elections — in which Danica Roem, a 33-year-old transgender woman, handily beat an incumbent who'd authored a transphobic bathroom bill and dubbed himself the state's "chief homophobe"; in which Ashley Bennett, a 32-year-old psychiatric-emergency screener from New Jersey bumped off the Atlantic County freeholder who'd mocked the Women's March by asking whether protesters would be home in time to cook his dinner — showed that improbable wins by improbable candidates are possible, perhaps especially if they can convert anger and frustration at the ways in which they've been discriminated against into electoral fuel.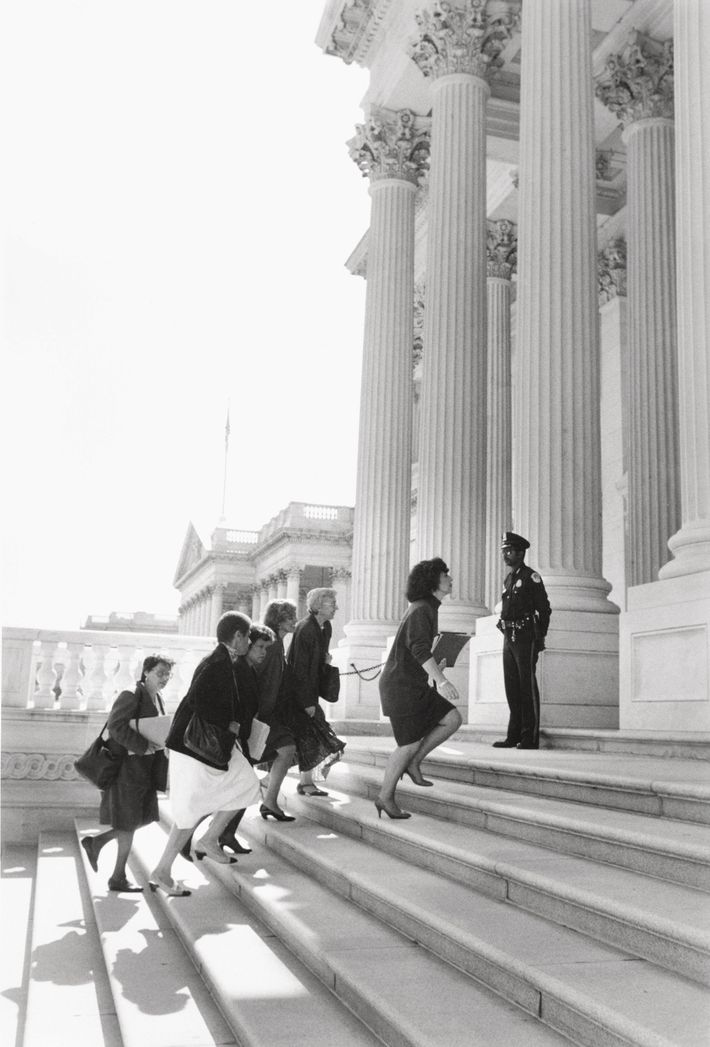 Illinois Democrat Marie Newman was a Bernie voter who, after the primary, switched her support to Hillary, whom she calls "likely the most qualified person who has ever run in that race." On the night Clinton lost, "I felt horribly for the nation first," she says, "felt horribly for her second, because she was ridiculously treated for someone who has given her life to public service." The next morning, Newman canceled her work meetings and sat home in her pajamas, filling out an application to the Illinois Women's Institute for Leadership. She'd volunteered for campaigns in the past but never herself been a candidate. By January 1, 2017, she'd shut down her one-woman business, given her clients away, commissioned a data-driven study on her district, and embarked on a listening tour. "I wasn't playing," she says. She announced her candidacy in April. "I've done 121 meet-and-greets, met with 4,000-plus people," says Newman, who speaks with a rat-a-tat preparedness that makes Hillary Clinton sound like a slacker.
Newman offers one model of a first-time politician, but only one. In speaking to candidates or potential candidates over the past six months, I've talked to women who expressed ambivalence over throwing their hat in the ring, some who felt uncomfortable fund-raising and others who were shocked by how much they enjoyed asking for money; some who were stressed out by media training and others who took to it like slick seals to water; some who were soft-spoken and shy and others who were angry at Donald Trump, angry at their own parties, angry at the people who keep telling them to stop talking about how angry they are. The only truly unifying theme has been that they've all felt called, during the crisis of Trump, to do something, anything, to fix the mess.
"When something bad happens," says Stephanie Schriock, the president of EMILY's List, the PAC that has supported Democratic pro-choice women since 1985 and has become one of the most powerful institutions in American politics, "women want to take action."
Schriock cited the rise of the tea party as a useful example of how the rage of losing a presidential election — to a candidate you feel doesn't represent you — can move Americans into politics with intensity and velocity. The swift formation of that political faction was driven in many regions by right-wing white women inflamed by Obama's victory. Remember the Mama Grizzlies? And it has reshaped — perhaps entirely remade — the Republican Party.
The other moment that 2018 seems poised to echo is 1992, when, after the shoddy treatment of Anita Hill by an all-male, all-white Senate Judiciary Committee, American women took home a record number of congressional seats. "I see a passion among women who understand that if you sit at home and don't go out and participate, you lose what's important to you," says Patty Murray, one of four women who won a Senate seat in 1992, the so-called Year of the Woman. "That's what motivated women after the Anita Hill hearings. We looked around and said, 'Wait a minute, where's my voice?' " When she decided to run for the Senate, Murray — who famously cast herself as a political neophyte, "just a mom in tennis shoes" — recalls, "I chose to put my name on the ballot if for no other reason than that I had someone to vote for."
The Women's Campaign School at Yale, the place where now-Senator Kirsten Gillibrand learned how to run, held its first five-day workshop in 1994, in the wake of the Year of the Woman. After 1992, says Patricia Russo, who now runs the school, there was an expectation that female candidates would be everywhere. Instead there was a drop-off, likely because while a high number of open seats and a group of women motivated to fight for them produced record-breaking results in 1992, there was no solid infrastructure in place to continue to draft women into politics or support them once there. This left the pipeline near empty.
"When we started," Russo says, "the median age for women attending our school was mid-40s. Now the median age is around 30." That reflects new attitudes about when women are "allowed" to enter politics. They don't have to wait until their kids are grown anymore, and there's a better chance that they'll be taken seriously in their 30s or even 20s — being young and single is no longer a deal-killer, nor is being the mother of little children. Also different now, Russo says, the majority of those who enroll in the school are women of color.
Other groups have gotten into the candidate-training-and-support business in the past two decades, and registered exponential growth over the past year. For Higher Heights — founded in 2011 to harness the power of black women as voters, organizers, and candidates — a slow rise in engagement in the months after Trump's win became an enormous spike with the fall 2017 elections in Virginia, New Jersey, and Alabama. "Black women were really acknowledged as political drivers of change, as first-time candidates and as the voters who made the difference," says co-founder Kimberly Peeler-Allen.
Erin Vilardi, who runs VoteRunLead, which trains female candidates specifically for local and state-level offices, says that in a typical year, two-thirds of the organization's resources are devoted to persuading women to run, with a goal of tapping 2,000 nationwide. This year, 3,200 women have been trained by VoteRunLead and over 10,000 contacted the group completely unsolicited. That's meant that VoteRunLead can tailor its recruitment to regions such as "the sleeping giant" of rural America. "There are tons of progressive women in rural communities who don't even need that much encouragement," she says. "Look at the Alabama vote." She's added digital training to reach wannabe candidates who can't afford to get to cities for seminars and updated the curriculum to help the crowd of women jonesing to run decide which office is the right one for them. Is it county commissioner, or school-board member, or state representative — and what are the responsibilities in those jobs again?
EMILY's List, meanwhile, nearly tripled the size of its state and local team and doubled the digital staff to handle the 26,000 inquiries they've received about jumping into the electoral fray post-Trump. Run for Something — co-founded in 2017 by a Hillary for America alum to enlist first-time candidates younger than 35 — expected around 100 people to sign up the first year; instead, 15,000 did. Sixty percent of them are women, 40 percent nonwhite, and the group so far boasts a nearly 50 percent success rate after supporting 72 candidates in the fall of 2017 — the typical win rate for first-timers is 10 percent, according to co-founder Amanda Litman. Still, she says, resources are stretched thin by high demand: "We need money!"
"I think there's a disgust," Vilardi says, "when women find themselves running against a guy who hasn't changed the photo on his website since the 1990s — these men have been in office for so long." Then there's another kind of disgust, increasingly articulated by at least some of the rookie politicians: "There's disgust very much about the abuse that men in power have systematically been engaging in unchecked, and disgust with the people who continue to keep those men in power."
And the sense of ill-earned authority and entitlement — in some cases extending to stories of groping (former Democratic senator Al Franken) or asking campaign staffers to be surrogate mothers (former Republican Arizona congressman Trent Franks) or allegedly threatening to distribute a photo of an extramarital paramour nude, bound, and blindfolded if she blabbed about their affair (Republican Missouri governor Eric Greitens) — exists across the ideological spectrum. The upshot is that while the majority of first-time candidates are Democrats or progressives, not all of them are brimming with enthusiasm for the party itself, which is surely why so many first-timers are daring to take on primary incumbents. (According to CAWP, 228 Democratic and Republican women are now planning to challenge incumbents in the House; at this point in the 2016 cycle, only 85 were.)
Listen to Newman talk about her opponent, who voted against the Affordable Care Act and last week participated in Illinois's March for Life. "Here's a guy who calls himself a Democrat and is anti–civil rights in every way, anti–women's health care, anti-immigrant. He voted to defund Planned Parenthood and is so anti-woman he doesn't believe in birth control for anyone. The fact that he thinks he can be that controlling is beyond anything I can understand." Responding through a representative, Lipinski says that "Newman is lying about my record," insisting that he has "never taken a vote or made any comment in opposition to birth control," and citing his involvement in, among other things, "finding a solution for the DACA program" as evidence that he's not anti-immigrant.
Particularly noteworthy is Newman's use of the word controlling. The pollster Tresa Undem, who tracks American attitudes about gender, politics, and reproductive rights, told me that the word started popping up in focus groups in fall 2016 in the context of voters' view of politicians who tried to tell women what they could do with their bodies and health care; she'd rarely heard it used that way before. By the end of 2017, the idea of controlling men was coming up all the time. "Voters in five out of six recent focus groups on abortion discussed their observation that white men — often also labeled 'old,' 'rich,' or 'privileged' — are making laws that affect women's reproductive care and rights."
Challenging those in control can be complicated. Newman — who's garnered endorsements from Gillibrand, MoveOn, the Human Rights Campaign, Gloria Steinem, NARAL, and Illinois representatives Jan Schakowsky and Luis Gutiérrez, among others — has conspicuously not been endorsed by some of the major women's political groups, including EMILY's List and Planned Parenthood's PAC. Planned Parenthood spokesperson Erica Sackin says that the group hasn't yet endorsed anyone for 2018, but adds, "Rep. Dan Lipinski has not been a champion for women or women's rights, and in fact has only a 23 percent voting record rating from the Planned Parenthood Action Fund." As for EMILY's List, the organization declined to comment on Newman, and while it usually refrains from endorsing challengers to Democratic incumbents, its unwillingness in this instance — when Newman is so clearly the better standard-bearer for its priorities — seems out of sync with what could be a transformational chapter in American politics.
"This is a moment to take significant risks, and we're hedging our bets," Vilardi says, in reference not only to EMILY's List's foot-dragging but also to the Democratic Congressional Campaign Committee and state parties, all cogs in a political machine that tends to be hesitant about directing money toward new kinds of candidates in crowded primaries. In response, the DCCC's Meredith Kelly points out that half of the 18 House races that have so far earned the organization's "Red to Blue" designation — a signal to donors to invest — feature women. But that's nine out of the 390 women running for the House; there are still a hell of a lot of highly motivated novices struggling to stay afloat against guys with more cash, experience, and connections. "Not throwing every dollar behind the exciting new women candidates, especially women of color," Vilardi says, "is missing the political moment if I ever did see it."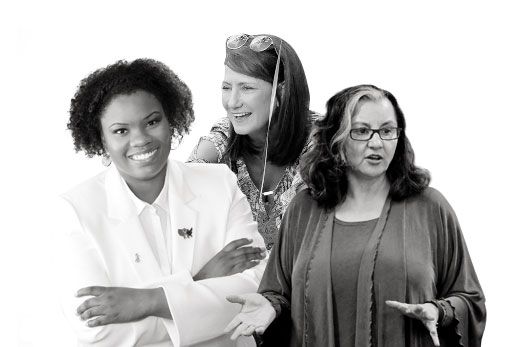 A throng of disgusted women does not an effective army make — especially when the mechanisms to train and fund them are at capacity, leaving more than a few campaigns erratically funded and sporadically organized. The logistical challenges are huge: How do you move thousands of women smoothly into upcoming races, especially when so many of them are brand new to politics?
In the months after the election, says Patricia Russo, "about a third of women who contacted us, who marched and were mad, were not even registered to vote. The second third said, 'Of course I'm registered to vote.' But when I asked where they voted in 2016, they said, 'Oh, I didn't vote. I had some personal challenges,' or, 'The candidates were so similar I just couldn't decide.' "
And so across the nation, on practically every weekend, women who hope to one day lead their communities and perhaps their country are getting crash courses in civic participation. On a Saturday in late October, as EMILY's List's Schriock was addressing potential candidates at the Detroit Women's Conference, the group's executive director, Emily Cain, was doing the same for a hundred women in Manhattan. "If you wake up in the morning caring about something," Cain told the potential future leaders of America crowding the wood-paneled room, notepads out, "you are qualified to run for office." The message echoes one delivered by Higher Heights co-founder Peeler-Allen to the black women she advises, many of whom lack confidence: "Each one of you is beyond prepared to run for public office. You need to channel your inner mediocre white boy and use that to run."
It may seem like a depressingly low bar for entry — although among the grim gifts of the Trump administration is the recognition of how low the bar is for political plausibility. But another crucial lesson of Trump's unlikely success, points out John Neffinger, a longtime Democratic candidate coach, is about the power of raw self-confidence, which is "very difficult for even super-high-achieving women to own." Unlike their male counterparts, women tend to assume that they don't have the experience or know-how to get into politics. "A lot of people, but especially women, get hung up on this idea that you should know what you're talking about before you open your mouth," Neffinger says.
In a report published in 2013 called "Girls Just Wanna Not Run," political scientists Jennifer Lawless and Richard Fox reported that men were almost 60 percent more likely than women to view themselves as "very qualified." The duo also surveyed people in professions that feed into politics (such as law) and reported a 16-percentage-point difference between the number of men and women who said they'd ever considered running for office.
Part of the project these days is reassuring women that they don't need to run like a white man — be he great, mediocre, or aggressively incompetent — in order to have a chance. Gone is the kind of advice that Hillary Clinton received from the chief strategist on her first presidential campaign, Mark Penn, who told her that he didn't think Americans were ready for a "First Mama" but that they might entertain the notion of the "First Father being a woman." "Voice modulation is still part of the training," says Russo, referring to the fact that women continue to be counseled to avoid upspeaking, which can undercut their authority. But overall, the emphasis on defeminizing women has waned, she says.
The whole training curriculum of VoteRunLead was overhauled in 2017 and can now be summed up with its call to action: "Run As You Are." Vilardi mentions Eve Hurwitz, a Navy reservist and small-business owner running for state senator in Maryland. She'd long colored her hair a vivid shade of purple, but, says Vilardi, "everybody told her that you can't run with purple hair, so she lost it, but other people said, 'How are you not going to run with purple hair? That's who you are!' So she dyed it back."
Similarly, Peeler-Allen recalls reassuring a recent candidate who was fretting about whether she had to code-switch to speak before different audiences. "Be genuine in what you're saying," Peeler-Allen says she advised. "As long as people feel you have their best interests at heart, it won't matter whether you twang or drawl or drop a consonant here or there."
Which is not to say that the political waters will suddenly part, allowing women to walk serenely into office. "You can know you're the best person for the job, and come out of a tearjerker of a training session, having just been inspired by the first Somali refugee to gain elected office," Vilardi says. "But the world is still gonna come at you and tell you that Jim Smith Jr. has been waiting for ten years and is next in line for that seat you want to run for."
Shay White, 26, is a first-generation college graduate, an African-American who grew up poor in southern Louisiana and is now a mental-health provider for elementary-school students in Tulsa. When she was 12, a contingent from her school was chosen to visit the statehouse; White was not among them. "In that moment of despair," she says, "I decided I will go to the library and learn all I could, so when my friends get back I won't be left out of the conversation." That turned her on to "a whole world of policy and government and bills," she says, and spurred her to think: "I should be a U.S. senator!" She went on to study social work, attending Oral Roberts University while working three jobs and committing herself to progressive policy fixes.
In 2016, she found out that there was a seat opening up in the Oklahoma state legislature — the perfect scenario for a first-time female candidate — and decided to go for it. But three months after she entered the contest last April, she learned that she had a primary challenger, a similarly progressive young white man who'd run an earlier, unsuccessful race. He'd amassed more than $200,000 for his previous campaign and has raised at least $48,000 so far for this one. By comparison, as of January, White has raised around $6,000. The incumbent, who reached his term limit, has been photographed with her opponent over a hashtag reading #passingthetorch.
White calls her rival "a great teacher, a great guy," and says the two are very close on the issues. "I don't want to get in the way of someone's passion," she says. Still, "things have changed dramatically since last November 8, for everyone. Including women. And people of color."
So White's scrambling to secure support. "If I was a young white man," she says, "people would be falling at my feet, talking about how he's got it together. With me, it's just: 'That's really cute.' " But hoping to be the first African-American, and the first woman, to hold her seat is not cute — in some cases, it's downright ugly. White estimates that she's canvassed a thousand homes so far, and "a couple of days ago, a guy slammed the door in my face, and then I went across the street and a woman told me, 'I love Trump.' " Another time, she says, she was working a white, rural part of the district when a man explained that he couldn't shake her hand because of the gun he was holding — he'd brought it to the door, just in case. "After that, I realized that after I knocked or rang the bell, I needed to take five steps back so I wouldn't startle people," White says. As for the guy who greeted her with a weapon, he "ended up saying that he was going to vote for me."
For all the obstacles first-time female candidates face, Vilardi notices a refreshingly new mind-set this year. "The 'Am I qualified?' stuff we used to hear, when women would talk themselves out of running for office — what is the time management going to be, wondering how they'll talk to their husband or partner or boss about this, worrying that they can't make this work with their job, or that legislatures pay crap — now all of that is being negotiated in a positive way." Instead of talking themselves out of it, they're talking themselves into it. "It's like lightbulbs are going off everywhere," Vilardisays. "Prior to the 2016 election, two-thirds of VoteRunLead women would tell us they wanted a five-year plan. Now 60 percent want to run by 2020."
Antoinette Sedillo Lopez, a former law professor working at a nonprofit assisting victims of domestic violence, had been urged many times in the past to run for office. But she was happy with her work. Enter Trump. The week after he was inaugurated, Sedillo Lopez, many of whose clients are Latina immigrants, noticed that only three of the ten people on her schedule showed up. "We called them and found out that they were afraid to go to the courthouse to get restraining orders, afraid to testify against their abusers in criminal trials. That was the first time I'd seen that." She immediately launched a campaign asking that Immigration and Customs Enforcement agents be removed from courtrooms, arguing that the dynamics were creating "a class of people who could not obtain justice because of fear" of deportation. "We've elected someone who doesn't care about the rule of law and is an abuser," she says. "It's an outrage." Now Sedillo Lopez is running for Congress in New Mexico's first district.
That outrage can be an extremely useful catalyst, says Patty Murray, especially when you face the kinds of fund-raising and structural barriers that many women do. "You have to feel you can get past all that," she says. "When we have that passion or anger, we work so hard."
But some of those seeking to organize women electorally are nervous about too much fury, fury that in women is still more likely to be read as irrational, hysterical, unappealing. "Anger can be a springboard," says Patricia Russo, but it has to be followed by hope and a plan. "It can't just be 'I marched and I'm mad.' " For black women, who've long been undermined by caricatures of anger, it can be an even bigger risk. "There is little tolerance for black women to be angry," says Peeler-Allen. "Which is hard when we have so much to be angry about."
Then again, the world does seem to be changing. When Tresa Undem conducted a poll in December 2016 asking if the Trump campaign and election had made voters think more about "sexism in our society," 40 percent of respondents said yes. In November 2017, when she asked whether the news about sexual harassment and assault made people think more about societal sexism, 73 percent concurred. In December 2016, 52 percent of those surveyed by Undem said that the country would be better off with more women in office; in November 2017, 69 percent gave that answer.
Undem isn't alone in detecting seismic shifts in attitudes about gender and politics. Recent MTV-PRRI polling of millennials found that young women were far more apt than young men to have participated in political activity over the past year, leaving one writer at Brookings musing that this could be "the first time in American history that an entire cohort of young women reports greater political engagement than their male peers."
It looks the same to Murray on the ground. "We have a huge number of women who could be elected mayors in major cities. We've never seen that before," she says. In other words, the pipeline could really start to fill, with female mayors and city-council members and school-board officials, who become tomorrow's state reps, who become 2030's senators and governors.
The sight of so many women rushing to occupy elected office is almost sure to draw out antagonists. This is a zero-sum game: If women win political power, white men lose it. Recall that the wave of women who hit Washington in 1992 didn't lead to a flood but a trickle of female candidates in the election cycles immediately following, that the backlash to the election of Barack Obama and the symbolic threat of Hillary Clinton gave us the tea party and eventually the Trump presidency. What if the backlash — to #metoo, to the sheer number of women taking to the campaign trail — reduces the enthusiasm for women down the road, as we move out of 2018 and toward 2020?
Andrea Steele of Emerge America, which trains Democratic women candidates in 24 states, worked on Carol Moseley Braun's campaign in 1992 and remembers the drop-off. "We thought everything was going to change," she says, recalling the deep disappointment when it didn't. "The difference between then and now is we have infrastructure. EMILY's List is stronger, Emerge is growing its support structure, there are state organizations helping to fund candidates. And a big part of what we've seen over the years is that when women get into politics, they start bringing other women in."
That, of course, reflects another sign of hope: that even if this is a bump, an aberration, it is likely to reverberate far into the future. In that Year of the Woman that is now two and a half decades old, four women (just four!) were elected to the Senate; today, there are five and a half times that number. The seat won by Moseley Braun, the first black woman ever elected to the Senate, would go on to be filled by the next African-American to win, Barack Obama, who would go on to become our first black president. Two of the original four women, Patty Murray and Dianne Feinstein, are still in the Senate; Murray has been the highest-ranking woman in the body. Both participated in the controversial but strategically smart, and wholly unprecedented, show of female force that pushed Franken to step down in the wake of groping allegations. Kamala Harris, only the second black woman to be elected to the Senate after Moseley Braun, was part of that clean-your-own-house-first effort. And the senator who kicked off the move against Franken — one that may have contributed to the defeat of Roy Moore, the retirement of Franks and Blake Farenthold, and the public reexamination of assault allegations against President Trump — was Kirsten Gillibrand, who occupies the former seat of the first woman ever elected senator from New York, a politician who also came to Washington, in 1992, as a wife. That woman would go on to run two historic and competitive presidential campaigns, one of which earned her 3 million more votes than our incumbent president; it is, of course, her electoral defeat that helped land us here.
Win or lose, for many of the women running in 2018, the unexpected electoral engagement has become a calling. They've gotten a taste of what running things might feel like, in a good way: Sedillo Lopez says that there has been something "very empowering" about leaving the domestic-violence agency, where she felt so regularly yanked around by the Trump administration, and embarking instead on a mission to challenge that administration. Asked if she's enjoyed becoming a candidate, Sedillo Lopez says, "Oh, I just love it, and I had no idea I would love it as much as I do. I might have done this earlier in my life if I'd realized how fun it is."
*This article appears in the January 22, 2018, issue of New York Magazine.