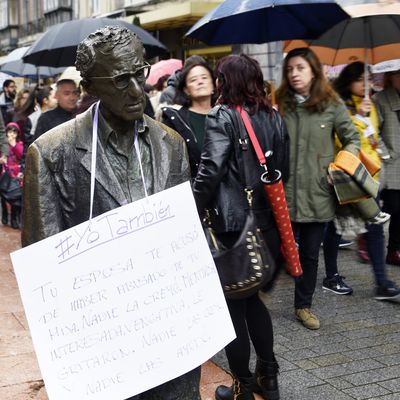 A bronze statue of director Woody Allen in Oviedo, Spain.
Photo: Eloy Alonso/REUTERS
Following accusations that Woody Allen molested his daughter Dylan Farrow, women in Spain are asking for the removal of a statue of the director, according to the Spanish publication The Local.
The bronze statue stands in the tourist town of Oviedo in northwestern Spain where Allen filmed part of his 2008 film Vicky Cristina Barcelona.
The activist group Asturias Feminist Organization reportedly sent a petition to the mayor of Oviedo demanding the town remove the statue, which the organization says serves to "honor an abuser and pervert." The council said they would consider the proposal.
This news comes as Dylan Farrow gave her first television interview last week and again claimed that her stepfather, Woody Allen, molested her when she was 7 years old. Allen continues to deny all allegations against him.
At the same time, several stars including Colin Firth, Greta Gerwig, and Timothée Chalamet have expressed reservations about working with Allen. Rebecca Hall, who appeared in Vicky Cristina Barcelona, and Allen's current film A Rainy Day in New York said on Instagram earlier this month that she regrets working with Allen — and has donated her salary to Time's Up.
"After reading and re-reading Dylan Farrow's statements of a few days ago and going back and reading the older ones — I see, not only how complicated this matter is, but that my actions have made another woman feel silenced and dismissed," Hall wrote. "That is not something that sits easily with me in the current or indeed any moment, and I am profoundly sorry."