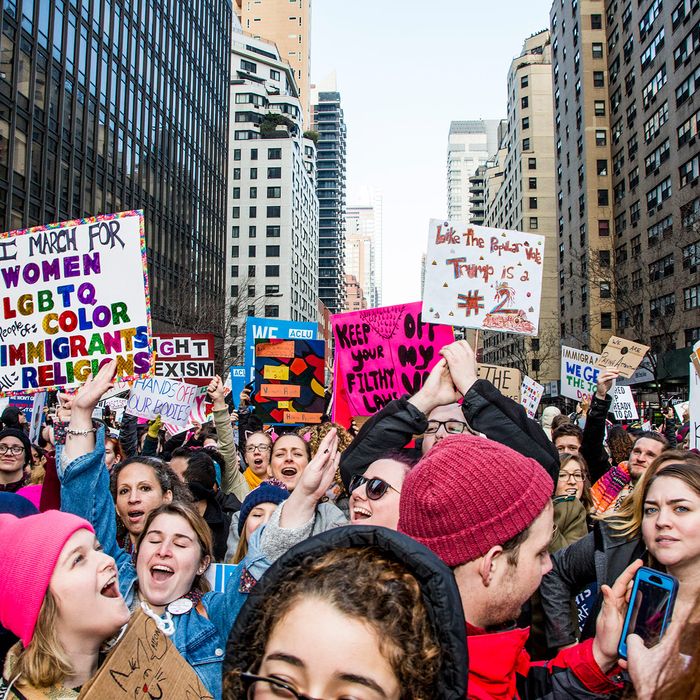 The 2017 Women's March in New York City.
Photo: Brit Worgan/Getty Images
Last year, more than 4 million people across the globe marched in protest on January 21 for the inaugural Women's March (which was not-coincidentally held the day after Donald Trump's inauguration). Since then, there's been a Women's Strike, an onslaught of sexual-harassment allegations against powerful men, the rebirth of the #MeToo movement, and — unfortunately but not surprisingly — continued widespread discrimination against women and minorities.
There is still so much to fight for, and activists are hoping you'll channel your rage into the second annual Women's March weekend, coming up later this month. Here's everything you need to know about the events.
Save the Date: the Weekend of January 20
This year, there are more than 200 Women's March events planned around the world for Saturday, January 20, as well as a few additional events on Sunday, January 21.
About the March in New York City
An estimated 400,000 people participated in last year's Women's March in New York City — and this year, another march is being planned for January 20 in Manhattan to stand up for the rights of women and minorities.
The New York City March is set to take place from 11 a.m. to 3 p.m. that day, with a starting entrance point of 72nd Street and Central Park West in the Upper West Side. There will be a rally starting at 11:30 a.m. that day at Central Park West between 61st and 62nd Streets, followed by a march starting at 12:30 p.m. that will go past Columbus Circle, turn east on 59th Street, and then go down 6th Avenue to 43rd Street.
You don't have to register, but it's encouraged so organizers can give the NYPD a heads up about the amount of participants they expect. This march is expected to be the biggest of all the events planned around the weekend, with over 22,000 people already indicating on Facebook that they plan to attend (and another 77,000 people saying they are considering it).
About the March in Los Angeles
A march will be held in downtown Los Angeles on January 20, with organizers inviting all 750,000 who attended last year's event to join again. The event will feature art, music, community booths and a number of speakers. Many celebrities — including Viola Davis, Natalie Portman, Connie Britton, Allison Janney, Laverne Cox, Larry Wilmore, Nicole Richie, and Olivia Munn — will be in attendance, alongside Senator Kamala Harris.
The Los Angels Women's March starts at Pershing Square, with a rally starting at 8:30 a.m., followed by a 10 a.m. march to City Hall. Here's a map of the route. Speakers and performances will go from 11 a.m. to 3 p.m. on the main stage on Spring Street.
Just like the New York march, you aren't required to register for the event, though organizers would like if you did so for headcount and security purposes. Over 22,000 people have already said on Facebook that they plan to attend, and another 43,000 are considering it.
About the March in Chicago
On Saturday, the Women's March Chicago will be hosting a March to the Polls event. Music and video for the event starts at 9 a.m. at Columbus and Congress, followed by an 11 a.m. rally and a 12:30 p.m. march to Federal Plaza. An estimated 250,000 people participated during last year's march throughout Chicago, and this year's event will be more about influencing future elections rather than protesting the new presidential administration, the Chicago Tribune notes.
About the Rally in Las Vegas
On January 21, thousands of people will come together in Las Vegas, Nevada, for the #PowerToThePolls event. Women's March organizers selected Nevada as the place to commemorate the one-year anniversary of the event, since it's a swing-state that will shape the Senate in 2018 and has recently experienced gun violence and sexual assault cases. The event will be held from 10 a.m. to 4 p.m. that day — and will kick off a national voter registration tour.
Where to Find Info About Other Marches Around the World
This year's Women March events aren't relegated to major U.S. cities, of course. The Women's March Alliance has a full list of events on its Facebook page, with protests planned as far away as New Zealand and Vancouver, Canada, as well as marches in most major metropolitan cities in the U.S.
What to Bring (and Wear) to March Events
March organizers recommend you wear warm, comfortable, and dry clothes — and of course, please be sure to check your local weather forecasts lest there be another winter "bomb cyclone" that weekend. You can bring a bag or backpack, but big bags are not encouraged for safety purposes. Organizers also suggest you bring water, and yes, you are allowed to bring an umbrella.
You're also encouraged to bring a protest sign with you — check here for inspiration from some great signs from last year's March events. However, organizers suggest that the signs be made out of paper, poster board, or cardboard — and you can use something like holiday wrapping paper rolls instead of wooden sticks, since the NYPD prohibits the use of wooden poles, handles, or sticks, as well as metal wires or handles.
This post has been updated.