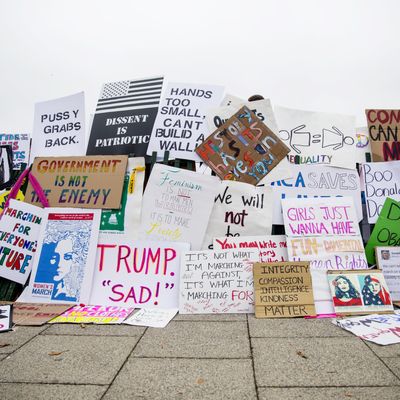 Signs at the Women's March.
Photo: Bloomberg/Bloomberg via Getty Images
On Saturday, thousands of women will hit the streets across the country for the 2018 Women's March. They'll descend on their cities and towns, armed with comfortable walking shoes, water bottles, and signs. After last year's demonstration in D.C., tens of thousands of technicolor posters littered the city's streets — they were piled up against fences, propped against buildings, and shoved into overflowing trash bins. And then, they were gone. Well, almost. A few dozen were collected by a small team of curators, to be preserved at the National Museum of American History.
"The museum has a long history, stretching back to the March on Washington, of collecting materials from protests, and rallies, and marches, and those occasions when citizens get together to make their voices heard, and exercise their first amendment rights," Lisa Kathleen Graddy, a curator in the museum's Division of Political History told the Cut.
On the morning of the march, Graddy and about six of her colleagues fanned out across the National Mall to collect materials they thought would best represent the day, and help preserve it in history.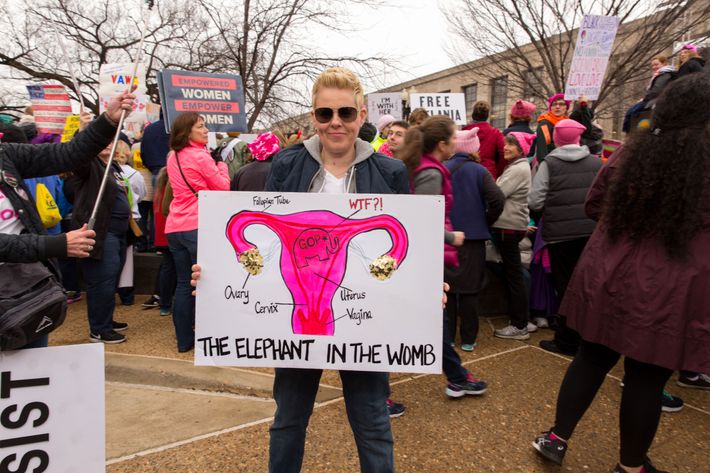 "Things fall into sort of two categories," Graddy explained. "There's the slogans, the imagery you're expecting to see, the thing's that are on the tip of everybody's tongue … Then there are the things that are particularly original, and unique, that are also eye-catching, and you want to try and document."
According to Graddy, the number of materials — and messages — made their task overwhelming.
"When we were sorting, we were also looking at — okay, this is about science, this is about self-determination, this is about rights, this is specifically about gender … and then we'd bring all the things to the center and sort through what we had to see where we had duplication."
While they were able to collect a lot of discarded material around the National Mall, Graddy and her co-workers also spent much of the day hunting down specific items they felt would round out the collection, as well as approaching people to see if they would be willing to donate their poster.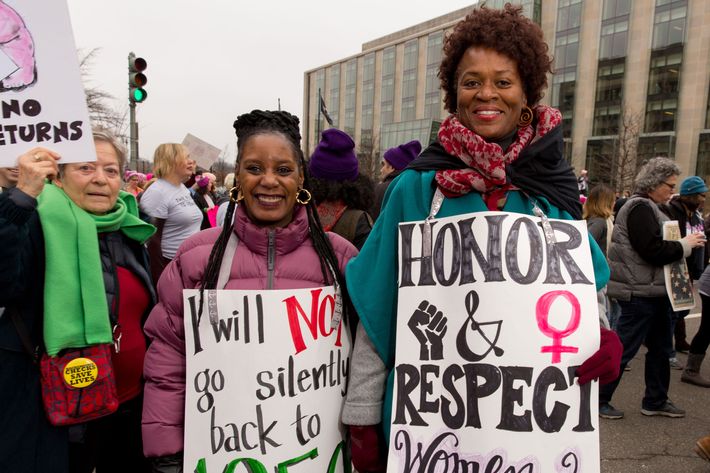 "No matter the circumstance, people always have the same response," Graddy said. "First, they're startled. They're stunned that the Smithsonian might be interested in something they made or are carrying, and then most people are pleased. It's a nice thing to have somebody come up and say 'We'd like to save that thing you're carrying for all time.'"
Once the curators felt they had gotten a representative sample of materials, they brought them back to the museum, where they culled them down to about 50 items, including approximately 35 posters with slogans like "Girls just want fundamental rights", "Military Mom, Latin Immigrant, I'm American," and "Out of the minivan and into the streets".
Today, the only Women's March sign on display is a hand-written Black Lives Matter poster in the museum's "American Democracy" exhibit. But once each item is processed and given a unique ID number, measured, described, and entered into the museum's catalogue, they will be available for other museums' exhibitions, and for the public to use in their publications and in their own research.
As for Graddy's favorite sign?
"That's like choosing your favorite child," she laughed. "There were so many that were amazing, but there was one […] it was covered in images of women suffragists, and used the slogan 'Shoulder to Shoulder'."
This Saturday, the museum plans to collect signs from the 2018 Women's March. If you need inspiration for this year's protest, check out some of last year's posters here.
Who knows, maybe your sign will end up in the Smithsonian.