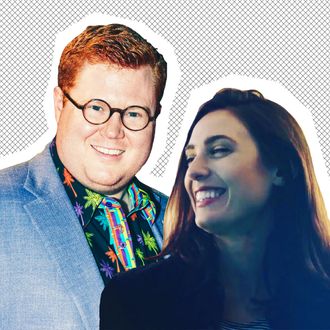 Wyatt Koch, Alysha Grace Marko.
Photo: Getty Images; Courtesy of Alysha Grace Marko
In December, the world was introduced to Wyatt Koch — of those Kochs — via a lawsuit: News broke that he was suing his ex-fiancée for the engagement ring he once gave her. But what the world was far more interested in was young Wyatt's terrible, terrible shirts. The shady conservative billionaires' heir's true passion is designing for Wyatt Ingraham, a "bold" line of shirts emblazoned with everything from palm trees to money bags that he claims are perfect for both the "boardroom" and the "discoteca."
As of today, he's still suing his ex-fiancée. He continues to design ugly shirts. And he's apparently moved on romantically.
"Page Six" reports that Koch is dating a young woman named Alysha Grace Marko, according to this bit of mad libs: "her aunt Christine Pressman, wife of Barneys heir Gene Pressman, who was overheard talking about the new couple at a luncheon at the Brazilian Court hotel." Per Marko's personal website, she advertises herself as a triple-threat "actress, model, foodie."
Nothing like true love and also the prospect of obscene amounts of money to help someone overlook their partner's billiard-ball button-down. In any case, we hope Wyatt, Alysha, and all the very bad shirts are happy together.